« All Posts by this Blogger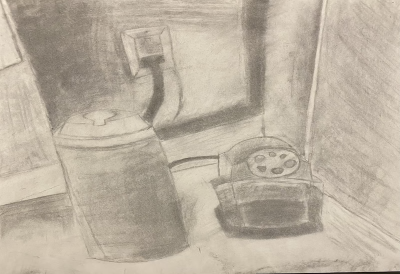 Studio Arts at Dartmouth
As a kid, I used to spend my summer days drawing on my sketchbook or painting with watercolors to pass the time. With time I left this hobby behind—life gets busy, and I found new interests to pass the time. However, art is something that I love to this day, and I always find it fun and relaxing to doodle, mostly in my notebook during class. I know, it's a bad habit—well, not in every class.
This term, I am taking Studio Art 15: Drawing 1. As I mentioned above, I love making art, so I am taking this class out of interest, to improve my skills, and to dabble in something new. The course is in-person this term, and is taught in the Black Visual Arts Center where there is a studio reserved specifically for Drawing 1. There, we have all of our materials: pencils, charcoal, pens, inks, brushes, and anything you could think of—plus, we have access 24/7, so night-owls can feel free to put their art on paper any time that inspiration strikes.
I've been in the class for two weeks as I write this blog, but this class is already one of my favorites ever. My homework is to draw for about 10 hours a week, with each assignment being based on the latest technique or form of drawing learned in class. Plus, I was given a sketchbook at the start of the term, in which I am to draw anything that comes to mind. It doesn't have to be super detailed, although it can be—it can be about anything and everything. Generally, I end my night by sketching until I'm ready to sleep. It's a great way to unwind after a busy day and, at the same time, helps me improve my technique.
After Drawing 1, there are many courses in the Studio Art Department where one can learn to paint, sculpt, print-make, and much more! I will definitely be exploring these down the road—and if you have the opportunity, I think you should too! There are no prerequisites for these courses and students who take them come from all different levels of experience. The liberal arts are all about trying new things. So, if you have the opportunity, give art classes a shot! They're fun, and are the only time you'll be encouraged to doodle in class.