« All Posts by this Blogger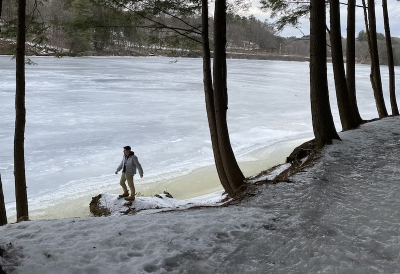 Reflections on Winter 2022
This term is my third winter on campus. In all honesty, I'm generally not a big fan of cold weather. I'm from Maryland and spent most of my childhood in El Salvador, so warm weather is my forte. However, I've done my very best to embrace the winter since my first year of college. This winter was no exception, and I can without doubt say that this was another fun quarter at Dartmouth. Here are some reasons why:
Freedom
Thankfully, COVID-19 cases have been relatively low in Hanover, allowing Dartmouth to lift some restrictions so life can be a little closer to normal. This meant sit-down dining, live shows at the Hopkins Center, in-person classes, and much more!
Classes
This term, I took a diverse set of classes: French, Drawing, and Microeconomics. I liked each of them, and even though the workload was pretty heavy for the first half or so of the term, being able to switch between very different subjects helped me stay motivated and avoid burn-out.
On-Campus Jobs
Lastly, another highlight of my term was getting to be a Teaching Assistant for Introduction to Programming and Computation for the first time. It's one of my favorite classes at Dartmouth, and being on the other side of the classroom was an interesting experience. I refreshed my own understanding of the content, met new people, and got a feel for what it's like to teach—all while making a little extra spending money.
Health
This term, I wanted to prioritize my mental and physical health above everything. I made time to go to the gym at least five times a week, sleep eight hours each night, and have some free time every day to hang out with my friends while not doing homework. This made me feel stress-free, energized, and more put-together than in past terms. I'll definitely keep this going!
Besides that, winter was great because I got to spend a lot of time with both new and old friends. I can say with confidence that I am walking away from this term with more exciting memories to look back on when I graduate. So, in short, winter was awesome.