« All Posts by this Blogger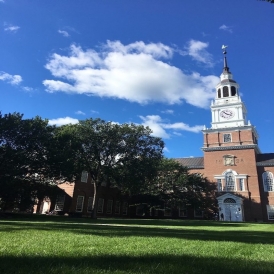 My First Memory at Dartmouth
Hi all!
As you are probably aware, we are nearing college decision deadlines—it's exciting! Your long years of hard work have paid off, and now it is time to make one of the most important choices of your life: where you will attend college. This is a very personal decision, and you should ultimately attend the school where you feel at home. For me, that was Dartmouth. I love my school, and I could type all day telling you the reasons why that is. However, there is one experience that sums it up—my first memory as first-year student at Dartmouth.
It was move-in day. I had taken an early flight from Washington D.C. to Boston and was on my way to Hanover aboard the Dartmouth Coach. My family was with me—we crowded into our own little section of the bus, all of us excited for what was to come. It's a two-hour drive to campus from the airport and I figured it was the perfect opportunity to catch some sleep. I grabbed my hoodie, slipped my shoes off, and closed my eyes.
Two hours later, I woke as my aunt shook my shoulder; we were ten minutes away from Dartmouth. I looked out of the window to see tall oaks lining the roadside. It was raining a little but, coming from a city, the view—the green landscape that seemed to stretch forever—was truly awesome. Eventually, we reached the town of Hanover—there were students everywhere. Trips had just begun, and there was awesome energy in every corner of campus.
The bus pulled around the green, passing Baker Tower and Rauner Library; then past Robinson Hall, full of colorful banners and students dressed in bright outfits, some sporting dyed hair.  We halted at the stoplight in front of Collis, our Center for Student Involvement. There, a group of students crossed the street—they were rugby players, judging by their uniforms. One of them turned to look into the bus and, all of the sudden, her face lit up. 
Two seats to my left, a girl who had previously been reading jumped up—laughing, waving, nearly running out of the bus—and hollered to her friends, who were now just as jittery from excitement. The light turned green and we headed for the bus stop. The girl's friends walked over and crowded around her as she exited the bus. They hugged and laughed their hearts out amidst the growing crowd of returning students and first-years, as if nothing else mattered. I grabbed my luggage and headed towards the beautiful, bright mess that was Robinson Hall, knowing that I made the right choice. I was finally at Dartmouth. I was home.