« All Posts by this Blogger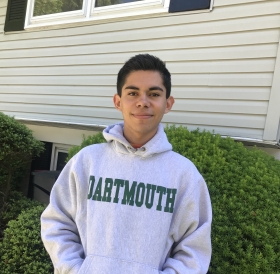 First-Gen Friday!
Welcome to People Places Pines! Each week in the month of April, student bloggers will be bringing a post to you called "First-Gen Friday" — a series of interviews with current Dartmouth students who are the first in their families to attend college. This week, Robin Martinez '23 sat down with members of the admissions office to answer questions about what it's like to be a first-generation student at Dartmouth. Be sure to check back each Friday for a new student feature!
Describe your community on campus. 
I think the great thing about college is that you get to be part of lots of different communities. When I first started at Dartmouth, I was introduced to the First-Year Student Enrichment Program (FYSEP) and First-Year Trips communities during pre-orientation; I made some of my closest friends then. Once classes started, I made new friends through clubs, classes, and in the most random places—like FOCO, our dining hall. There is a place for everyone at Dartmouth.
How have professors supported you as you transition to college?
My professors, thus far, have been awesome. This is especially true about my writing professor from first-year fall. I enjoyed her class, and asked her to lunch (on Dartmouth's dollar). We had a great conversation and got to know each other really well. Since then, I have gone to her with questions ranging from course selections to internship applications. She has been one of my greatest supporters in my time here, and is always free to talk. That's the awesome thing about professors at Dartmouth: they are there for you. Yes, they do research on campus, but their main priority is students—they are, therefore, great resources during the transition to college.
What does Dartmouth's financial aid mean to you?
To me, Dartmouth's financial aid means security. I come from a low-income household, and there is no way my family and I could afford a college education without the college's generosity. Dartmouth has lived up to its promise of covering all demonstrated need, and I have not once worried about money since being admitted.
Why did you choose Dartmouth?
I chose Dartmouth because of the people. As I researched schools over one year ago, I realized that community is essential to the college experience. Dartmouth, through its Bound and Dimensions programs, showed me that I would find it there. Every student I met during my visits had found their place and had friends all over campus. Now, I am just like them—I feel a strong sense of community at Dartmouth, and am beyond happy to be here.
What advice do you have for first-gen and low-income students as they choose a college?
Ask yourself one question: is this school a good fit for me? The most important factor to consider when choosing a college is whether or not you can see yourself thriving there. This is a big decision—you are picking your experience for the next four years of your life. So, take a good, long look at the schools you are considering and make sure that whichever one you choose is right for you. That being said, remember that college is what you make of it!