« All Posts by this Blogger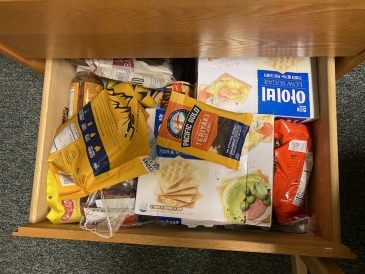 Asian Food at Dartmouth, Part Two
A year ago, I wrote an article about the Asian food the dining hall serves at Dartmouth, and the conclusion that I came to at the end of the post was "it's not authentic, but at least they tried." Well, a lot has changed since then. For one, FoCo (the '53 Commons, aka the main dining hall in Dartmouth) used to be a self-serve all you can eat buffet. Nowadays it's still a buffet, and you can still grab as much as you want, but because of COVID restrictions the DDS (Dartmouth Dining Service) employees have to grab it for you. But before we were even allowed to go to FoCo and dine-in, we had to quarantine for 8 days where we had to pick up our food for takeout only.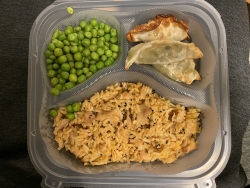 Now, before coming back for the Winter, I had heard stories from friends at other schools about all the administrative mess that came with trying to get everyone fed in quarantine, especially in the larger schools. I'm talking about dietary restrictions not being acknowledged, both religious and allergy-related, and even not getting students water, which I'm pretty sure they needed. And I'll be honest. I heard so many stories about just getting anything to eat that I had packed half a suitcase's worth of just snacks to eat in the event that everything here went wrong.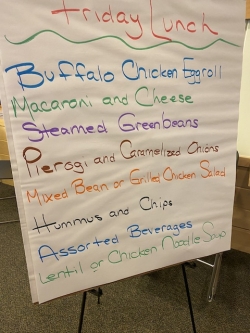 Though I'm proud to say that, 14 days into quarantine, I haven't touched any of that food out of necessity. I may have grabbed a pack of crackers or two, but for the most part I've been fine. Great, even. 
You see, my second fear was that we would get food, but it would be some nutraloaf-type situation. Not true at all either. In fact, not only have DDS been trying their best to make the food good, they've been trying their hand at all sorts of different kinds of food. They've served stuff like Gyoza, Beef Bulgogi, Samosas— things I never thought I would see in Hanover, much less Hanover during a lockdown. And while the food might not always taste authentic, the point is that they're trying, and that means a lot especially during a pandemic. It really just goes to show you how above and beyond DDS goes for the students here.