You are here
« All Posts by this Blogger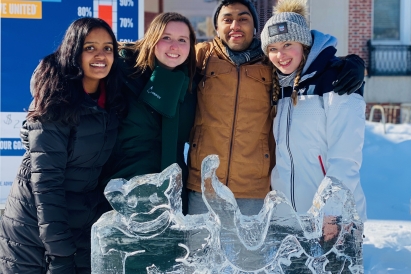 Winter Carnival!
One of the major celebrations during the winter term at Dartmouth is Winter Carnival. Winter Carnival is a weekend-long event that began in 1911 to admire the beauty of the Upper Valley in the winter and to celebrate the success of Dartmouth's winter sports teams. 
My friends and I started the weekend off by watching Frozen 2 (I know...how wintery, right?) at the Hopkins Center for the Arts. In addition to Dartmouth students, many children and adults from the Hanover area came to watch the movie. After we finished watching the film (which was amazing, if anyone was wondering), my friends and I decided to check out the giant snow sculpture on the Green. Because the theme for Winter Carnival this year was "A Blizzard of Unbelievable Beasts," the giant snow sculpture this year was the Loch Ness Monster.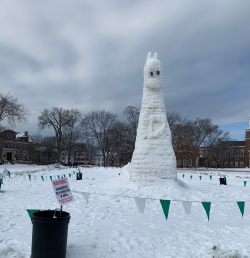 The next day, some people from my debate team and I participated in the ice sculpture contest. Even though I had no prior experience in ice sculpting, I was excited to try for the first time. After we started, I quickly realized how difficult it was to ice sculpt, especially when it was below freezing outside! After working for four hours, we finally finished our sculpture. Even though it didn't turn out *quite* how we wanted it to, I enjoyed spending time with my team!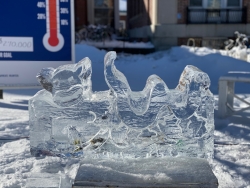 Other than ice sculpting, there were a lot of different activities going on, such as the 99 Cent Ski Day and the Human Dog Sled Race. After ice sculpting, my friends and I decided to attend some political rallies. Because the New Hampshire primary happened to be the Tuesday after Winter Carnival this year, many presidential candidates came to campus. They spoke to students and members of the Hanover community. It was amazing to see these candidates speak and to see how passionate Dartmouth students are about politics. To end the night, my friends and I went to the Winter WhingDing, which is a wonderful music and dance show with performers such as the Decibelles (Dartmouth's oldest all-female acapella group), The Dartmouth Chords (an all-male acapella group), and Sugar Plum (a dance group).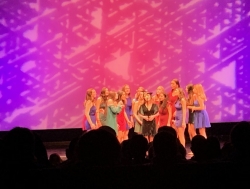 Dartmouth students embrace the cold winters by celebrating the beauty of the wintery landscape and taking advantage of the cold by doing winter-specific activities such as ice sculpting, skiing, and sledding. I had so much fun celebrating Winter Carnival, and I can't wait for the next one!
I still wake up every morning and think "I'm at Dartmouth" with a distinct sense of pinch-me-I'm-dreaming. Sounds crazy, but it's true.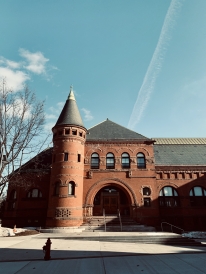 I'm going to be completely honest: sometimes college is hard! I've compiled some resources that are great if students want to take some time to de-stress.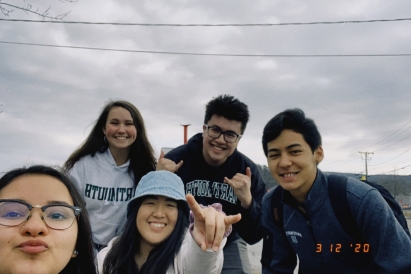 Even if I won't see my fellows NADs (our powerful Indigenous community), Questies (Questbridge ʻ23s represent!), and First-Generation Low-Income (FGLI) folks for a little while, you should all know that you make Dartmouth a wonderful place to be.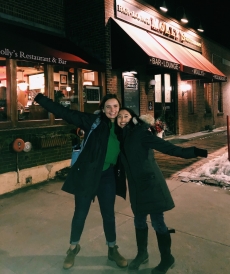 Because the town and school are small, they are extraordinarily interconnected and, in my experience, people in the community have been super welcoming. One long time Hanover resident even helped me pick out a good winter coat!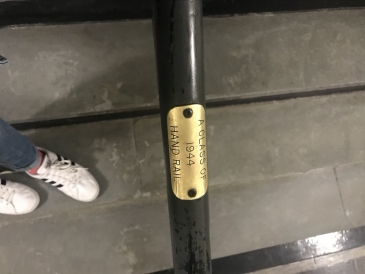 When I think of "old" at Dartmouth, I think of the many parts of campus that are rich in history. So this week, I went around to a couple of locations on campus to capture some of the historical parts of campus and their history.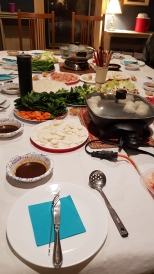 You can imagine my happiness when one of my friends forwarded an email with the subject: HOT POT DINNER @ International Cafe — RSVPs needed.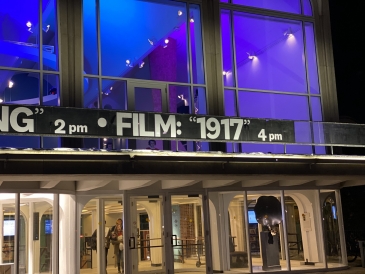 I don't think any place exemplifies the stereotypical college town like Hanover and our dear old Dartmouth. Of the places at Dartmouth that have the best vibes, my vote — without question — goes to The Hop.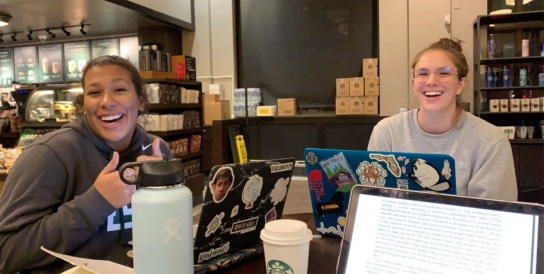 When I came to Hanover almost four years ago to start my freshman year, finding every place that serves coffee was of the utmost importance. Here's the rundown on the best places in town for coffee.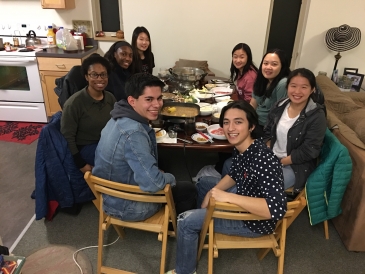 I never thought Christianity would be part of my Dartmouth experience — but here we are!