« All Posts by this Blogger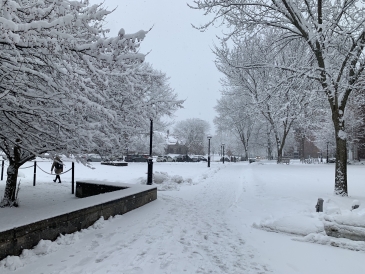 Introducing the Tucker Center!
Coming to Dartmouth, I already had a plan of the types of communities I wanted to get involved with: performing arts, social impact and leadership, STEM/pre-med. As a strong Christian, I also knew that I wanted to engage with my faith on campus and meet other people who were going through Dartmouth with this mindset as well. Though I have found a wonderful group of people at Christian Union and Agape, two Protestant Christian organizations available on campus, I've also found some of my favorite people at the Tucker Center for Spiritual Life.
The Tucker Center is a Dartmouth organization, meaning that it is not only a place filled with students, but that it is a microcosm of society as a whole, with staff members and religious leaders who further partake in dialogue as we clueless young adults attempt to navigate a busy life, while still remembering what we hold most important. The staff at South Fairbanks, where the Tucker Center is located along with the Center for Social Impact, are simply amazing, kind, and gentle people who I always enjoy being with.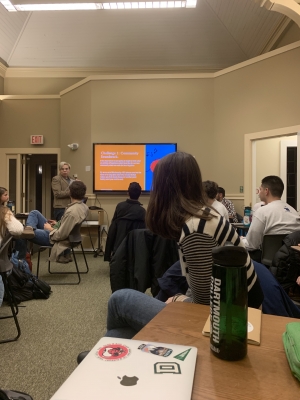 Not everyone at the center ascribes to a particular faith: many people are also questioning, agnostic, or atheistic. This place is not a place for religion, per say, but a place for people to discover and explore what they believe about this life that we live. As I find that college students are notoriously busy and over-burdened, in some cases, with matters of the "now" and the "material," the Tucker Center has been important for me in being one of the places where I have the space to face deeper matters of our human existence. I usually attend Multi-Faith conversations and Speed Stories here, and I am going on an alternative spring break this March with the center as well!
If you are one of those people who enjoys being introspective and living with intention, I highly encourage you to visit South Fairbanks, the building right next to FoCo. You might even see me there! If you prefer to not think about spirituality or think it's unimportant, I still encourage you to stop by to meet some great people and explore a part of campus most people don't know exists. Though Dartmouth is small, there are so many pockets of interest groups around the campus and I love making it a point to go and see or meet someone new. You never know what you might discover about the school, or about yourself.