« All Posts by this Blogger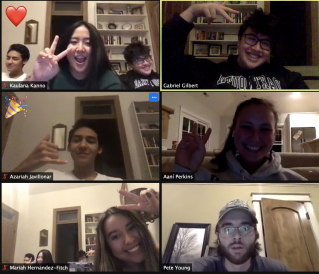 Thursday Night Trivia!
The middle of the term, just as any middle of the movie, is either a roller coaster ride or the quiet before the coming storm. For me, it's been the latter. At the time of my writing this post, I'm heading into Week 6, which means I'm officially in the thick of it. In between my classes, it's definitely been a challenge to find ways to simply get away from everything, but recently my friends and I decided to take advantage of some of the virtual programming that all of the beautiful minds working at the Collis Governing Board (CGB)…Thursday Night Trivia!
In high school, I was a massive nerd and played for my school's quiz bowl team. We actually had an amazing run, but since coming to Dartmouth I've somehow always found time for at least one night of trivia per term. There is absolutely no better socially-distanced/virtual activity than trivia, and the CGB managed to put something together that linked both everybody elsewhere than campus studying virtually and everybody that wanted to participate on campus. Some of our teams (like mine) were from several different locations, while some groups were playing socially-distanced at Collis, or from their dorms, or from different countries. Again — who does quarantine community better than us?
In the picture of this blog post, you can see me from multiple (mostly somewhat unflattering) camera angles in addition to my three housemates and our two other friends (basically the ones most recently called on my friend Lana's FaceTime history, because I think most any of my friends would've been amazing at trivia but the team limit capped at six — sorry guys <3). My housemates and I are currently living and grinding in New Orleans, Louisiana while my friend Pete called in from Oklahoma and my friend Aaní from Virginia Beach. How's that for a little geographic diversity?
We started off strong, but dropped from second to third to fourth place, which just inspired us to come back bigger and better for next time. Live and learn. We basically sat in our breakout room and just shouted out an answer if we knew it, and honestly with like twenty teams or something participating our quarantined performance was not nearly as shabby as it should have been, which basically means we're good at trivia. If anything, it was just nice to have a small part of the gang back together for a fun hour or so of trivia while we ate some delicious Domino's pizza — just like any other good night back on campus. 
Even virtually, campus stays active, and I wouldn't have it any other way. I might not be able to pop into Collis for a smoothie and some pinball action, but Dartmouth still brings Collis to me. Thanks, Big Green, and see you all soon.