You are here
« All Posts by this Blogger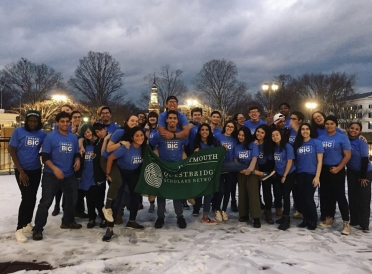 QuestBridge at Dartmouth!
During my senior year, I was most preoccupied with learning to apply to college. I had to learn the ins and outs of the very systematic institution that is college admissions. As someone from a low-income background with parents that didn't have the traditional four-year college experience that I was applying for, I had to learn everything from the ground up. The admissions world threw me several curveballs, but through a few helpful advisors in my life and the unparalleled power of the Internet, I found QuestBridge. Through QuestBridge, in a way, I found my future.
My biggest questions before arriving at Dartmouth — even before I had Dartmouth on my radar as the place where I'd probably spend the next four years of my life — all had to do with community. I think when you're scoping out colleges, it's really important to know what kind of network and social scene your school is going to have. I was really interested in knowing what the social scene was like for people with my background — essentially, my fellow Questies (QuestBridge scholars) and my other FGLI (First Generation Low-Income) peers.
Within a few weeks of my arrival on campus, the Dartmouth QuestBridge Chapter put together a hangout session to meet all of the Executive Board (love you guys) and to meet each other. It was a great way to jumpstart community building and up to the end of fall term I've kept in touch with too many fellow Questies to count.
Dartmouth has a lot of resources for students that share my background. From the beginning, many of the QuestBridge kids participated in FYSEP (First-Year Student Enrichment Program) — a pre-orientation focused on connecting FGLI students with a support center and different avenues of support on campus. The FYSEP kids are very close friends, and many of them actually live in my building just two floors above me in Thriving Through Transitions (T3), a Living Learning Community (LLC) focused on making the transition to college as easy possible with floormates that share similar experiences and backgrounds. I frequently jump into my elevator and enter their world for movie nights, study sessions, Presidential Debate watch parties, and even just to eat Takis. Dartmouth has supplied vouchers to different stores, free tickets on the Dartmouth Coach, advising, mentoring, and a couple coat drives were held when the temperature dropped to make sure everyone was going to be warm for the winter. 
The transition to a place like Dartmouth can be a very intimidating time for FGLI students, and I'm frequently inspired by the stories I've heard from my classmates and from upperclassmen about the path they took to arrive here. From rural Arkansas to inner-city Los Angeles, the experiences I've learned from share common themes of unique energy and motivation. We all continually draw on these experiences for the class discussions we speak in, the essays we write, and the pictures we paint for Dartmouth. 
Having peers around me that share my perspective on education accessibility and socioeconomic struggle became such a pillar of support for my first term at Dartmouth. Just knowing that I could ask QuestBridge upperclassmen and FGLI mentors about the finer points of the Dartmouth experience meant that I didn't need to be as anxious about navigating college life on my own. Sure, I did most of the exploring on my own anyway because that's my personality, but the very fact that people were constantly offering support and guidance put me in a position where exploration became possible. I barely spent any time in my dorm room for fall term because of how engaging my spaces on campus are and definitely will be in the next few years I call Hanover home. Thanks, QuestBridge.
Over a course of a few days, I ended up adding five books to my personal collection - after having not bought a book in months!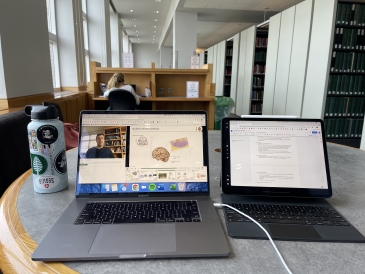 When I was applying to colleges, I absolutely loved watching 'A Day in the Life'-style vlogs. I wanted to share what a typical Monday at Dartmouth is for me to show there is truly never a dull moment here in Hanover, New Hampshire!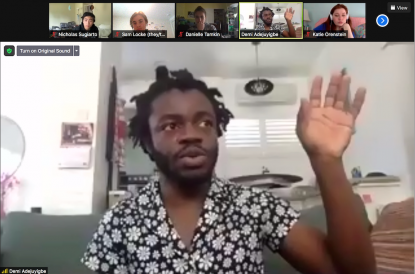 At Dartmouth, you have a unique opportunity to talk to really, really cool people. And, if they're not coming via official Dartmouth programming, you can invite your own speaker!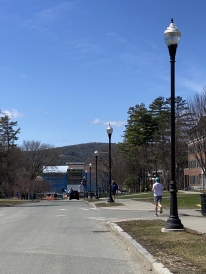 I decided to put some of the most popular questions together and provide some answers for future prospective students who also have these questions on their mind!

Dartmouth is a very outdoorsy place. However, you don't need to be involved with any outdoor clubs to fully experience the outdoors Dartmouth and the surrounding area have to offer. Sometimes, you just need a free day and some friends!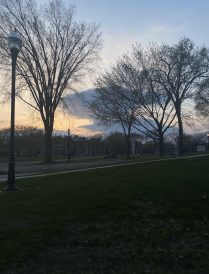 As I navigate a virtual senior spring term, I'm taking account of all of the fun ways to enjoy this term. Here's a list of three of my favorite spring activities!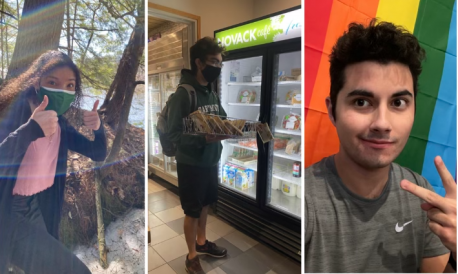 Today, I decided to walk around campus and asked my friends what their favorite aspect about Dartmouth is!

With decision day approaching, I decided to transport back to a year ago and share why I chose Dartmouth over other schools.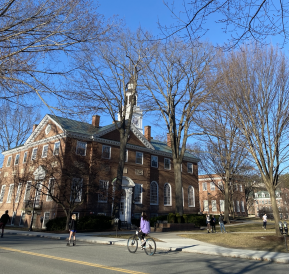 As you can see, what started as a simple blogging job has transformed into one of my biggest involvements on campus. What's great is that I love the work that I'm doing, and since it takes on so many forms, I never get bored!