« All Posts by this Blogger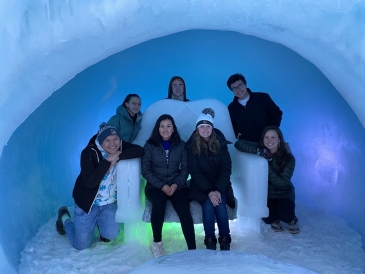 Ice Castles, but make it Indigenous
By the time of my writing this post, I'm heading into Week 9 of 20W (a Dartmouth abbreviation for Winter Term 2020). If you told me when I stepped off the Dartmouth coach just a bunch of weeks ago that I'd blink and watch more than two months fly away, I would've called you out and then went on my merry way to Novack for a macchiato. Now, I'm just concerned that my next terms will pass me by in similar fashion. There just isn't enough time for me to explore every corner of the world that Dartmouth manages to get into the tiny-but-just-big-enough campus here in Hanover, but as always, I'm going to do my best.
It's almost the end of my first winter here in Hanover, but that doesn't mean my friends and I didn't hop on the opportunity to go check out some ice castles an hour and a half north of us thanks to our Indigenous Student Peer Advisor (ISPA) and BFF Evan.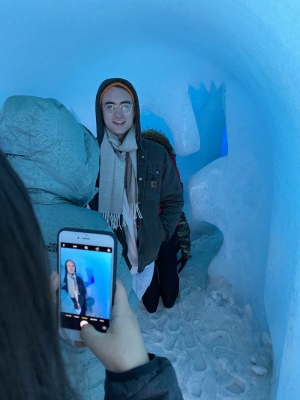 The ISPA program is a really cool program that my friends and I were able to have access to immediately after Native Pre-Orientation (Pre-O) — a program before classes start that really helped my friends and I transition with the help and resources of a strong Indigenous student support group. The ISPA program is staffed by a handful of Indigenous upperclassmen who serve as advisors and mentors to me and my friends while also directing weekly Friday, Food, and Fun at the Native American House — a way for us to catch up with each other and eat food. It just so happens that this Friday, Food, and Fun was all about ice castles, which, lucky for us, also meant escaping off campus.
We drove up in a van for an hour and a half, mostly through Vermont but ending up in New Hampshire, where the castles were located. It was ridiculously packed by people that I assume lived in the area, but the ISPA program bought and reserved tickets for all seven of us, so altogether it cost us absolutely nothing but time. And, of course, we welcomed this opportunity to get away from writing our final papers.
I still can't believe there are people out there building this giant structures out of individual icicles and buckets of water. The level of patience, artistic skill, and sheer determination required to build with the cold in the cold is beyond me, but thanks @ you guys for giving my friends and I an off-campus experience in the White Mountains that we won't soon forget. We'll just stay simultaneously loving and running from winter, I guess.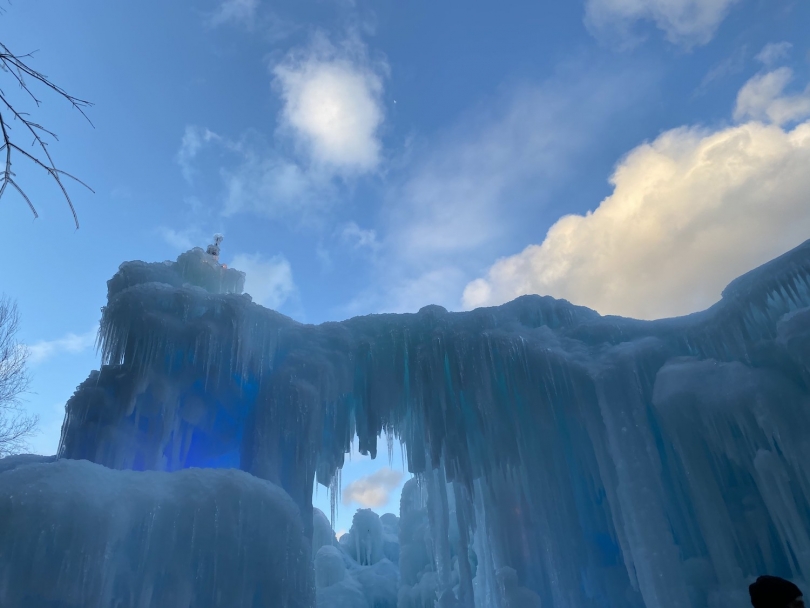 It's also still amazing to me when I reflect on who my friends are today and how they haven't really changed from my first few days on campus. Being around people from similar backgrounds with cultures as diverse as anywhere on Earth really shaped a lot of my participation in campus events and how much I'm involved with certain areas of campus life. Today I'm in both Hōkūpaʻa, planning a massive lūʻau for the coming Spring Term, and also working to plan Ivy Native Conference, which Dartmouth gets to host in the first week of Spring Term! And, really, it's all thanks to Pre-O. I trace all of my drive today to those first few days and the people I met. Thanks, guys.
If you're an Indigenous student (or First-Gen/Low-Income (FGLI), or International), I cannot recommend attending Pre-Orientation enough. Immediately I was shown all of the different resources available on Dartmouth's campus and where all of my support systems are for academic issues, mental health, and straight-up peer support. That's made all the difference for me navigating Dartmouth and I can't even imagine a world without these guys. 
I hope this shed a little more light on the Indigenous community here at Dartmouth and how influential the Pre-O programs can be to your Dartmouth experience if you're able to go. Thanks for reading, aloha for now.