« All Posts by this Blogger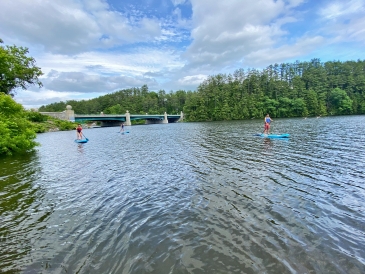 Paddling Into Sophomore Summer
After 14 months at home, I'm finally back in Hanover! Recognizing that I'm a person that likes to push things off "for later," I created a bucket list of 33 Dartmouth must-do's over the next 3 years. I'm unsure if I'll be able to complete them all, but I'm excited to take you on this journey with me. I've already started to cross off a few items on the list—making pottery and jewelry at the HOP, organic farming during STRIPS (sophomore trips), and completing my first-year trip leader training. 
However, one of the coolest sophomore summer experiences I've had so far was during the second day of classes. I noticed a free paddleboarding lesson sponsored by the Outdoor Programs Office (OPO) at Dartmouth and made the 20-minute trek from my Topliff dorm to Ledyard Canoe Club, situated right on the Connecticut River. I was joined by leader Gunnar Johnson, a grad student from Tuck, and a '23 on the triathlon team (intimidating, I know). 
Gunnar taught us how to put on the paddle board fin and find an appropriately sized paddle before launching into a five-minute crash course. And then, they were off—me, not so much. I panicked, almost crashing into a tree, but Gunnar was incredibly patient, reminding me which way to turn the paddle and how to find my center of gravity. After 30 minutes of paddling on my knees, I mustered up the courage to shakily stand up, and we made our way over the bridge into Vermont.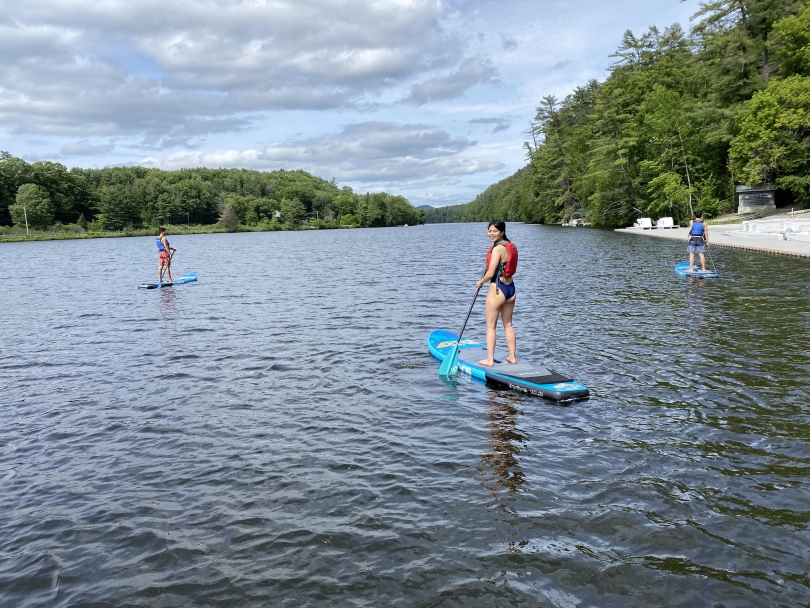 We stopped at a small watering hole, where many Dartmouth students go for a swim, and sailed back to the docks within 5 minutes, using the wind to guide us. Paddle boarding was completely out of my comfort zone, something I thought I could never do. In fact, I almost chickened out half an hour before the session, but I'm so glad I didn't. I'm going to be spending a lot of time at Ledyard this summer (I already signed up for two more canoeing sessions) and dragging my friends over to show off my newfound paddling skills.