« All Posts by this Blogger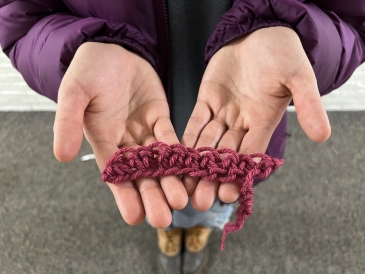 Embracing New Hobbies
During my eight terms at Dartmouth, I have spent a lot of time pursuing my academic interests and existing hobbies, such as cooking, swimming, and playing word games. However, I've come to realize that it has been a while since I learned a new activity for fun. That's why I'm challenging myself to try activities outside of my comfort zone this term.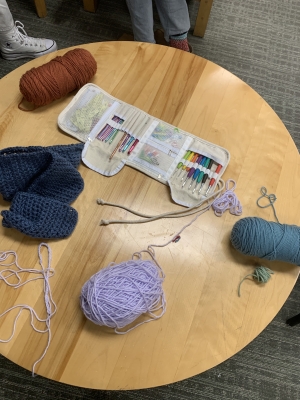 My latest interest has been Dartmouth's DUCKS club, where students can learn how to knit and crochet. I attended my first meeting last weekend and was surprised to see over forty craft enthusiasts in attendance. I headed over to the crocheting session of the room, where a leader was holding a session for beginners. The club provided free hooks and yarn for us to get started. I learned how to make a slip knot or a starting point for my project, before starting a chain of interlocking loops. I struggled terribly, but our leader reminded us that this was difficult, and no one would be expected to get this easily. She even guided me through the process over and over again, reminding me how to hold the yarn or adjust my tension.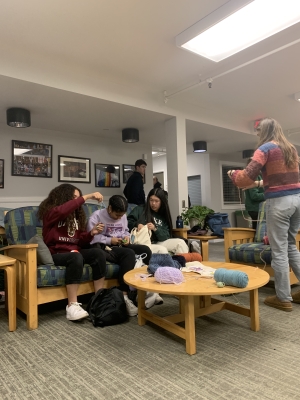 Once I got the hang of the single crochet, I made my project slightly wider by adding another chain of loose loops on top. Noticing that I was flustered by the new directions, a fellow club member sat next to me for the remaining hour, providing me reassurance and repeating steps. I was struck by the incredibly supportive club environment. This was something I had noticed before coming to my first in-person meeting, as group members would often exchange images of projects they were working on and leave words of praise. Although I was initially self-concious about how much help I needed, no one really paid attention to me. I'm excited to maintain my sense of "trying"—there's nowhere else I would be able to walk into a room full of people excited to teach me how to crochet!