« All Posts by this Blogger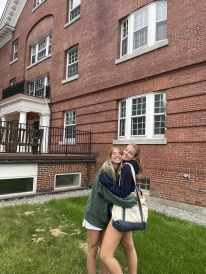 Little Sister on Campus
My little sister Kayla recently matriculated into the Dartmouth Class of 2025.
After the first two quarters of my freshman year, I returned home for quarantine and couldn't shut up about how much I loved Dartmouth. I brought up stories about my classes and escapades whenever I could. Most notably, I couldn't quite shut up about how much I loved my new friends.   
Meanwhile, Kayla was deep in the process of figuring out which colleges she was applying to. She had said a couple times before that she absolutely did not want to "follow" me to college and that Hanover was simply too cold for her liking. I truly thought that she was going to end up applying somewhere else, so I started to gas up other schools to her to offset my non-stop Dartmouth propaganda. When she told me she was applying to Dartmouth as an early decision applicant, I was overjoyed. When she got her acceptance letter, I was over the moon.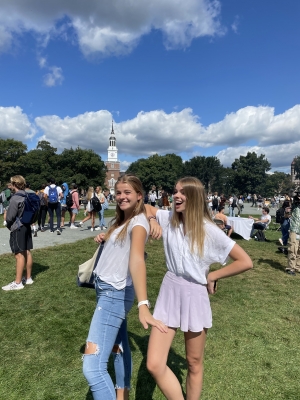 My mom dropped off Kayla a couple weeks ago and we got her settled into her two room triple in the Fayweathers. As I led section B's "Climb and Hike" for First Year Trips, she climbed and hiked with section A. As she thought about first year course selection, I was able to give her my thoughts on what a balanced load looked like and what professors to try to take classes with. I got the opportunity to show her where my favorite places to study on campus are and gave her my two cents on which clubs she should look into. It's funny – I really didn't see myself as an upperclassman until the '25s got to campus. Now I feel like I have some insight to pass down (not that she'll listen to most of it, anyways).
Dartmouth is big enough that I don't see Kayla all the time, but I've loved catching her walking around campus and spending late nights in the Tower Room of Baker-Berry. '25s have waved at me thinking that I'm her, and I constantly have my friends report back to me when they see "little Bry." Having a sister on campus when the rest of my family is on the other side of the world has been a welcome change. One of my friends once told me that going to college with their sibling was the best decision they ever made. Based on the past two weeks, I think that I might end up feeling the same way.