« All Posts by this Blogger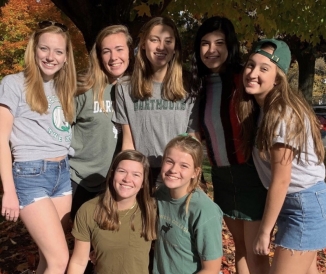 Is Early Decision Right for Me?
Potential members of the class of 2025, you are finally seniors—and I bet you're probably just about as shocked about that as I am. Here comes the season of the Common Application, AP-class-overload, final SAT/ACT tests, celebrations, and, eventually, goodbyes. It's going to be an exciting year. Buckle up — it will speed by. 
If you are considering applying to Dartmouth, one of the most important upcoming deadlines is November 1st, the day that "early decision" applications are due. Applicants who apply by this date will receive either an acceptance, deferral (meaning that their application will be considered again after January 2nd with all regular decision applications), or a rejection letter in mid-December. Early decision applications are also binding, meaning that if you are accepted as an applicant, you will be expected to enroll. If you know that Dartmouth is your number one choice of college, applying by November 1st as an early decision applicant might be a great option for you—it was for me!
I went into my senior year of high school loving both Dartmouth and another Ivy League school that I had done a camp at that summer. Both had the kind of academic rigor, extracurricular environment, and historical legacy that I loved, but they were also super different. Both schools capitalized on different sides of my identity. I could see myself being one Bryanna at Dartmouth and a very different one at this other school. Quite frankly, I was absolutely torn throughout that August, spending hours upon hours making lists comparing and contrasting various aspects of campus and academic life at these two institutions. I knew that I wanted to submit an application to one of them by November 1st. Dartmouth offered an early decision application process while the other school offered restrictive early action, meaning that, while if I was accepted I wasn't bound to the school, but I also couldn't apply to any other school early decision or early action. 
There were a few questions that I reflected on throughout senior fall that led me to ultimately determine that Dartmouth was my first choice—a decision paramount for the next step of applying for an early decision. High school seniors considering applying to Dartmouth on November 1st, I encourage to you reflect upon the following questions:
1. How does Dartmouth compare to the other schools that I am considering?
2. What are ten things I love about Dartmouth? 
3. Am I 100% sure that I want to attend Dartmouth?
4. What kind of student, colleague, and friend do I see myself being at Dartmouth?
5. How likely is it that the kind of college I want to go to will change during senior year?
Applying for an early decision is both scary and exciting. Submitting that binding application on November 1st is a huge commitment, but trust me, if Dartmouth is your first choice, it's worth it! I think that a part of me will always question what would have happened if I applied restrictive early action to the other school I was considering, but, as I've learned from others who went through the early decision process, wondering that is normal. Above all, I know that Dartmouth was and still is the right place for me. I hope it you'll find that it is for you as well!
'25s, as you embark on this crazy college process, remember that we are all rooting for you. We cannot wait to welcome you onto the Dartmouth campus a year from now. Stay resilient, focused, and, above all, enjoy this year. You got this!