« All Posts by this Blogger
A Day in the Life of an Off-Campus Sophomore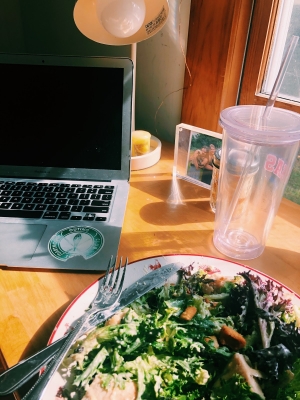 First up, I have Zoom classes! I have classes from 10am-2:30pm most days, so I'll make myself a quick lunch to munch on in one of my later classes. One of the great parts of living in an off-campus house is having my own kitchen—I don't think I can call myself a chef quite yet, but I've definitely come a long way since moving in. 
Next up, I got some training in! My three roommates are all rowers, so we have been cross training together. Biking in the Upper Valley is beyond beautiful and one of my favorite ways to work out -- there are lots of hills, though! Here is my roommate, Sophie, halfway through the Lyme Loop, which is about 40km. We biked up to Lyme on the New Hampshire side of the Connecticut and then back to Hanover on the Vermont side.
I love making the most of the last days of warm weather here in Hanover. Here is my other roommate Margaret working on her Introduction to Neuroscience notes. I'm working on readings and notes for my class Gov 3: American Politics—this week we're learning about the judicial system. 
Running into friends in downtown Hanover!
As per usual, the Green was looking absolutely gorgeous. Lots of students were out playing spikeball—not unlike what you would see on a "normal" fall day.
I ended the day with a Zoom with the newest members of my dance group, Sugarplum! We were so excited to welcome '24 babies to our little family. Fingers crossed that we can all dance together soon!