« All Posts by this Blogger
Winter Carnival!
It's that time of year! When the weather gets cold and the snow starts to fall, Dartmouth's annual Winter Carnival commences! 
So at Dartmouth, every term has its own "big weekend." Fall Term has Homecoming, Spring Term has Green Key, and Winter Term has Winter Carnival. And since I was itching to participate in the Carnival's events, I joined a couple of friends and participated in various activities on Campus.
On Saturday, I went with my friend Peter to Occom Pond for the various activities happening. There were ice forts, snow slops for people to slide down, and a couple of different ice sculptures! However, one of my favorite things was the "Sugar on Snow." The workers took warm maple syrup and poured it over snow in order to make a snow cone-esque treat. It was my first time having anything like that, and I gotta say, it was tasty!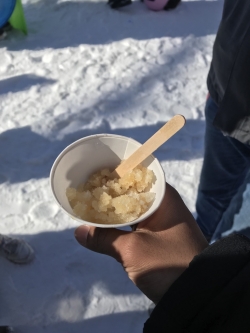 After replenishing our energy, we walked over to the ice sculptures and looked at the finished products of talent. I was really impressed to see the amount of detail and work put into the different sculptures. There were dragons, sea creatures, Yetis, and even Baby Yoda! It got me wondering for next year if I should try to participate in my first ice sculpting competition.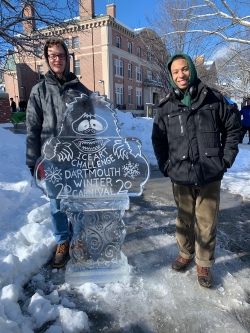 We ended the festivities with a good old-fashioned Chili contest, hosted by Phi Delta Alpha. For just five dollars, I got to taste a variety of different chilis and see which one was my favorite. It was something that reminds me of back home, and it was nice to participate with a couple of friends!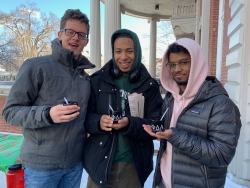 My first Winter Carnival was a success. I was worried that, with my schedule, I wouldn't be able to participate in the Carnival. Thankfully, I was able to go to a couple of events and have a fun experience in the winter of New England!