« All Posts by this Blogger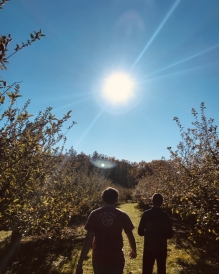 When Faith and Dartmouth Collide: Religious Life on Campus!
My faith is a very important part of my identity. As a Christian, I have a desire to live as a Christ-like example in all aspects of my life, whether in academics, extracurricular activities, or even in casual hangouts with friends. Before coming to Dartmouth, I had a nagging feeling that it would be hard to live out my faith on-campus. There is this stereotype that at schools such as Dartmouth, faith is seen in a negative light and is constantly pushed in the shadows. 
I can't speak about other colleges, but my religious experience at Dartmouth has been a positive one.
I first got introduced to religious life on campus through my Dimensions host. Dimensions is Dartmouth's way of introducing accepted students into Dartmouth life through things like staying in student housing for a night and going to different Dartmouth classes. Because of my religious identity, I wanted to room with an upperclassman that had experience as both a Dartmouth student and as a Christian. I was paired up with a '22 named Wes who was active in the Christian community on campus. We had great conversations about faith, and Wes even introduced me to Christian Union, a religious group that serves many religious students! When I left campus, I was excited for the religious life I would have when I came back to Hanover to begin college.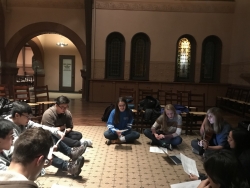 Starting in the fall, I decided to join two Christian groups: Christian Union and Apologia, the Christian thought magazine on campus. Through weekly Bible studies, discussions on faith, and outreach events such as handing out free waffles on Saturday nights to students (my all-time favorite event), I've grown in my faith and made many new friends in the process. I am excited to continue these events when I go back for Winter Term!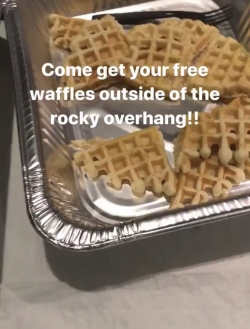 Throughout my time at Dartmouth, I have also seen people very respectful of my beliefs. In my personal experience, I have had many conversations surrounding my faith, and I have never felt as if people were being demeaning about who I was. At Dartmouth, people tend to be respectful of different beliefs, and I am thankful for this culture. 

Even though I have only been at Dartmouth for one term, I am happy with my religious experience so far. I am at a place where I can ask questions and grow in my faith, all while getting a world-class education!

Until next time!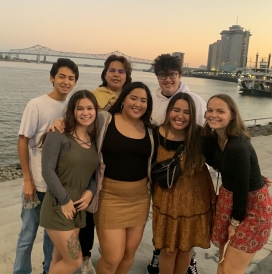 But at the end of the day, when people ask me what my favorite Dartmouth memories are, I'm always thinking about the place. Ice skating, pink sunsets, riverbanks, or canoeing? That's my highlight reel.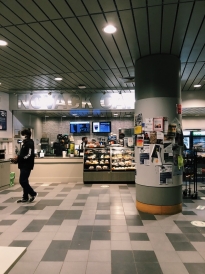 In a world where proper social distancing is so important, Novack Café has fulfilled a unique desire for current on-campus students; it's a place to study, hang out with friends, and grab a snack—all while staying COVID safe.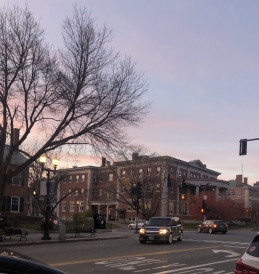 The last week of October was especially ~spooky~ as I was able to find more time than usual to enjoy my weekend with friends and the small-town-charm of Hanover.

While the student body at the College may be relatively small, students here recognize that their vote can hold a lot of weight in New Hampshire, a classic swing state.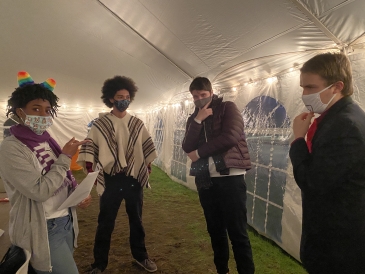 After walking around campus all day in eye-catching attire, we headed to a Murder Mystery night hosted by Phi Tau (a fraternity) in one of the tents scattered around campus.

On Friday, a few friends and I decided to take part in an event held by Collis After Dark, which organizes a lot of the student programming on-campus.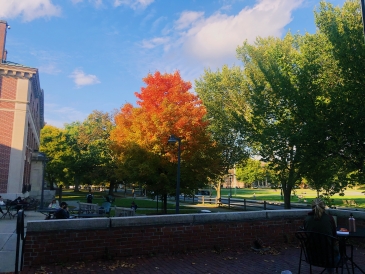 My personal visit to Dartmouth was a huge factor in my decision to apply, so in honor of Week 7, I hope this blog post can virtually illustrate some of what Dartmouth has to offer in seven images – worth 7,000 words!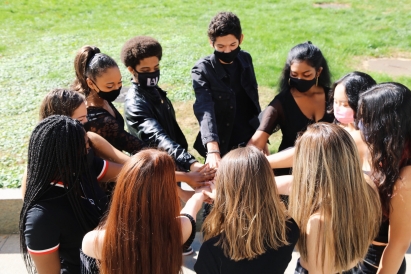 As a member of multiple performance groups on campus, I thought I'd give you a bit of background info on the opportunities here and discuss what we've been up to!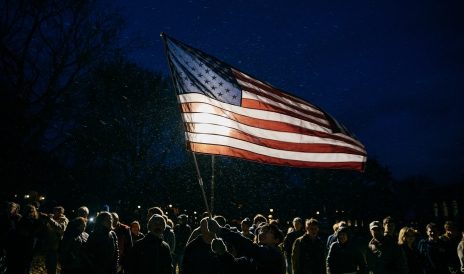 In honor of Veterans Day, I was able to interview student veteran Eugene Lovejoy '22 to hear about his experiences in the United States military and as a Dartmouth student. Read on to learn more!