« All Posts by this Blogger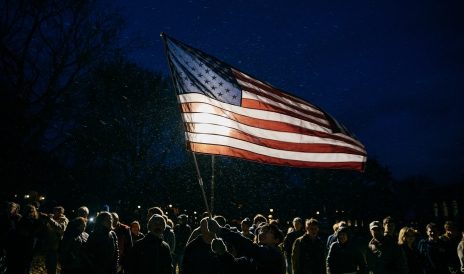 Veterans at Dartmouth: An Interview With Eugene Lovejoy '22
With all that is going on in the world right now, it is important to recognize that today is Veterans Day, a day where we remember all those who have served in our military to protect the freedoms of all at home and abroad. At Dartmouth, we are lucky to have a longstanding tradition of welcoming student veterans into our community. In honor of Veterans Day,  I was able to interview student veteran Eugene Lovejoy '22 to hear about his experiences in the United States military and as a Dartmouth student. Read on to learn more!
----------------------------------------------------------------------------------------------------------------------------
TH: Can you tell me about yourself and what your major is?
EL: My name is Eugene Lovejoy, and I'm in the class of 2022, currently majoring in government. I came into Dartmouth originally wanting to do economics, but since it was tougher to get into the classes, I started to take government classes. I liked the classes, professors, and other students, so I decided to pursue the major. Not only that but since English is my second language, writing papers in English is a nice challenge. I also might minor in math!
What was your background like before Dartmouth?
I was born in Russia and I speak Russian fluently. I moved to the US about 8 years ago and lived in Minnesota for a few years. I knew I wanted to do something different, and I didn't think college was for me at the time. Then, I met a recruiter while at work, and I did some research on the military. It seemed exciting and a way I could do great things that could change the lives of others. 
I was in the Army for four years in logistics, stationed in Virginia. To advance my career in the Army, I went to community college and got an Associates Degree in Business Administration. Afterward, it felt natural for me to continue my education, and I also wanted to spend more time with my family. I applied to a few schools and got accepted into Dartmouth.
What was the process like for you reaching out to the Dartmouth veteran community?
I had gotten accepted already to Dartmouth and I was trying to find people who were going to the school; I wanted to find the best fit for me. I was reaching out to DUSA first (they usually fund veterans to go and visit campuses), and then I went through social networking sites to meet new people. I wanted to hear all of Dartmouth's life—pros and cons. They said it was a great experience and that I would like it. It felt like a different change in pace from the military. Not only that, but it was different from the city life I was used to. Being here, I don't have to worry about things like traffic or parking.  After talking to the students, I felt like I liked Dartmouth, so I accepted my offer.
What was your application process like?
I applied as a transfer student, but veterans can either apply either as a transfer or first-year applicant. Dartmouth works with different non-profit organizations such as Service to School to identify potential students who are veterans. They seek to look deeper into the path of veterans since their military experience differs widely from students who apply straight out of high school.
How has your career in the Army affected your time at Dartmouth so far?
It benefits me in part because in the military it was a very stressful environment in which you don't have a lot of control regarding deployment. Here at Dartmouth, you can sign up for any course you want; you can drop courses or add courses; you can be flexible with the times you are on through the D-Plan. And in the military, after having the constant "go-go-go," Dartmouth feels less stressful! Plus it's in New Hampshire, so it is double relaxation.
Other than your classes, what are some other things you do at Dartmouth?
I did FYSEP my first year, where I met a lot of people who are my friends. It prepared me for classes and the tricks to get through different aspects of Dartmouth life. I also did the Management & Leadership Development Program and the Rockefeller Global Leadership Program through the Rockefeller Center. And because of my experience in the military, I was able to apply to the MLDP a year early. I want to apply to be a Rockefeller Leadership Fellow in my final year as well!
What is something you want veterans who are considering applying here to know about Dartmouth?
I want to tell them not to fear Dartmouth courses. The ten weeks are fast and some of the courses are difficult, but it is manageable and there is a ton of support, like office hours, other students, and the writing center on campus. Veterans here are also a diverse group of individuals, and in the Dartmouth community, they are not just seen as veterans, but as people.