« All Posts by this Blogger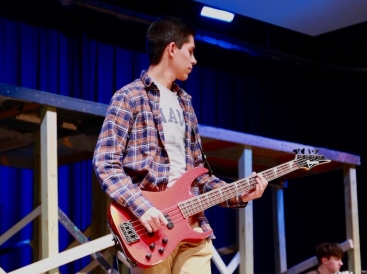 Music at Dartmouth
Coming into college, everyone has different experiences with music. 
In high school, you may have been part of music groups, played an instrument on your own, or may have shown up to support your friends at their concerts. Or, you may have had none of these experiences, and are brand new to music. Either way, there are plenty of ways for you to become involved with Dartmouth's music scene. Here are some ways you can:
1. Join a Performing Group
If you play an instrument, you'll have no problem finding a group on campus. Early each term, groups like marching band, orchestra, a capella, and jazz band, amongst others, hold auditions for new members. Most of these groups are entirely student-led, which gives anyone the opportunity to shine in leadership roles. These groups perform everywhere you can imagine: not only do they hold their own concerts on campus, but most also go on tour every year to other states and countries (this past year, one a capella group performed in London!)
2. Make a Band
If the traditional groups aren't your speed, you can always start your own. There are countless musicians on campus, and you'll be surprised by how often you run into them—trust me, if your hall-mate plays an instrument, you'll know about it in no time. 
So, if you like, you can be one of many rock bands on campus. These groups usually perform in fraternities on weekends, or as background-music for other campus events.
3. Take a Class
So, maybe you've never really thought about playing an instrument, but you want to give it a shot. Well, you're in luck! Dartmouth offers classes in almost every instrument. And, best of all, these classes are either free or have very small fees each term. It's never too late to learn to play instrument.