« All Posts by this Blogger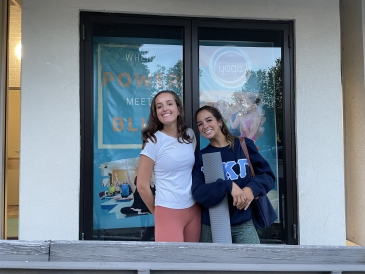 Mighty Yoga, Mighty Days
Hanover boasts an amazing yoga and barre studio on Allen Street called Mighty Yoga. This yoga studio offers various guided classes throughout each day of the week. 
While Dartmouth's Student Wellness Center offers free yoga classes on Tuesdays and Thursdays, I won't be able to attend these because I have a class that interferes with those times. Going to SWC's yoga and meditation classes are always the highlight of my day, and I would totally recommend them. 
I was not going to let my class schedule interfere with my physical activity demands, so this term I decided to purchase their Discovery Pass and also support the Hanover local community. The Discovery Pass offered by Mighty Yoga includes a month of unlimited classes for 50% off to first-time users. 
Going to yoga gives me the opportunity to decompress or energize at the start of my day. I love going to Mighty classes which focus on a "flow" vinyasa format where you move in and out of poses to help with strength, flexibility, and endurance in the body. Mighty yoga's studio has heated classes that make you sweat a lot and make you focus a lot on your breathing. I find it really relaxing to go in and be mindful of my breathing and bodily movement as I cultivate more awareness of my surroundings.
With all of the busy activity that goes on in my life at Dartmouth, I use this as an opportunity to cool down my mind and focus on my body. This is also a fun activity to do with friends, as I signed up with a couple of my friends and we often go together. Overall, the yoga and barre classes at Mighty are great for all experience levels and can really help your physical and mental health.