« All Posts by this Blogger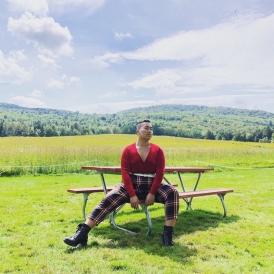 Conversations with Paul Tran
Let me make one thing clear. I am, through and through, a STEM major. I'm majoring in biomedical engineering with plans to hopefully pursue an MD/Ph.D, and I am absolutely loving it so far. I'm heavily involved in STEM on campus, and really see myself one day making a career out of it. But that doesn't mean that I'm any less passionate about the humanities, either. This term, I'm taking my first English/Women and Gender Studies course called Gender and Sexuality in Asian American Literature with Professor Eng-Beng Lim. It's the first time I'm taking a course anything like this, and I'm really, really having fun. The most fun part of it? Probably my midterm. 
Sounds weird, doesn't it? But that wasn't a joke. Throughout the term, my professor invited various speakers to come into the class and discuss various topics related to Asian America and gender and sexuality, such as poet Megan Fernandes, Professor Ikyo Day, and author Zack Linmark. I've never meant as diverse a group of brilliant people as I have in that class.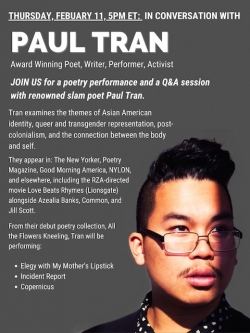 But that brings us to our midterm. It wasn't a test, or even a term paper. It was actually to organize our own person to bring in, and as a class create an open-to-campus event talking and learning about a topic related to the scope of the class. I was part of the main group spearheading the event, and after 6 weeks of work we organized a Zoom webinar class interview with Slam Poetry Champion, Stanford professor, and just amazing human being Paul Tran.
Now, I know nothing about poetry. In fact, I don't even particularly like poetry. But I had an amazing time talking with them. We as a class probed them on so many interesting facets: what it means to have "generational trauma," the philosophy of "creation," and even just artistic survival. So many nuanced topics unique to poetry, but still applicable to life. It made the stress of organizing the event absolutely worth it.
All this to say that I'm glad that I was wrong, and this is by far the most fulfilling midterm I've ever had. And that's what I love so much about Dartmouth, and the liberal arts experience in the first place. When you think STEM midterm season, the furthest thing from your mind is an informal interview with a slam poetry champion. But this kind of academic freedom is so gratifying to have, and is only possible because of how passionate this school is.