« All Posts by this Blogger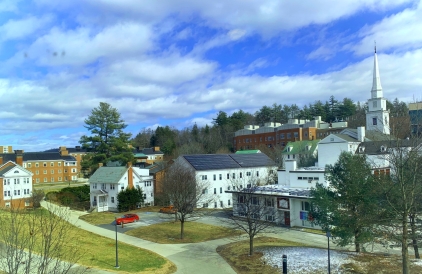 Junior Spring Bucket List
Happy spring, everyone!
I am currently in my first ever spring at Dartmouth and as a junior, I feel very motivated to make the most of my 10 weeks. 
Spring is a busy time here on-campus, with events such as Caribbean Carnival, Green Key, and graduation for the seniors. With warm weather on the way, people spend more time outside playing spikeball, going on walks, and skateboarding.
Even though I haven't spent that much time here yet, I'm sure that spring term will be one of my favorites.
With all that in mind, I've decided to make a bucket list to keep track of everything that I want to do this term. I'm taking four courses this term (three regular courses and one reading course), which means that I'm stretched pretty thin and will need to have good time management to get everything done. COVID-19 is also still a very real thing and I'll need to take care of myself to make sure that I don't get sick, so the bucket list is modified for that aspect. 
Go on a hike with the DOC.
DOC-led events like hiking are some of the easiest ways to get into nature since all you have to do as a student is sign up on the website and show up at the meeting place. I'd never spent much time in nature before Dartmouth, so having the ability to follow someone else's lead is great and very reassuring.
Celebrate AAPI Heritage Month with OPAL programming.
AAPI Heritage Month is in May, right towards the end of spring term. I have heard that the Office of Pluralism and Leadership (OPAL) usually helps hold events throughout the month that celebrate different aspects of the Asian-American and Pacific Islander experience, so I am excited to be a part of that and connect with the broader AAPI community here at Dartmouth.
See one show at the Hop.
The Hopkins Center for the Arts is a fantastic venue that hosts events throughout the term. I love seeing live performances in particular, so having student prices and even free tickets through the school is a definite plus.
Go on a trip outside the Upper Valley. 
The "Dartmouth Bubble" is a very real thing—I think I never left Hanover during my first two terms on-campus as a freshman. However, especially during remote learning, I've become very attached to the idea of spending time in more diverse spaces in terms of age, race, socioeconomic background, and occupation. I am living in the Chinese Language House (CLH) this term, and we get to plan a trip to Boston. My housing community also has a termly event to New York City that should be fun!
Make one new dish.
As I stated above, I live in the CLH this term which has a full, functioning kitchen complete with refrigerators and pots and pans. I hope to use the space to cook one new dish this term.
Try studying in a new place.
I usually study in my room, but studying in public areas can also be a great way to try new things and meet others. The Engineering and Computer Science building just opened on West Campus, so I hope to swing by sometime to check it out!
Attend a sports game.
Prior to Dartmouth, I knew very little about sports. I still don't know much, but I find games more interesting now and would like to attend one just for the experience. Is anyone up for a trip to the ballgame?
Attend a guest lecture / seminar.
A fantastic aspect about going to a school like Dartmouth is the ability to learn from experts in their fields and attend free seminars. The school calendar advertises events open to campus, and I hope to go to at least one this term.
Celebrate and observe Easter.
With how busy school is, I sometimes find it difficult to make time for my religious observances. However, Easter is right at the beginning of the term this year and I hope to go to different services and observe the holiday with some friends.
Visit the Hood Museum.
And lastly, I hope to visit the Hood Art Museum at some point this term! Before college, I was quite involved with both visual and the performing arts. Although I don't have as much time for it anymore, being able to see what the art community is up to on-campus through events at the Hood is super fun and a great way for me to continue growing that part of myself even while life gets busy.
Thanks for reading my junior spring bucket list for things to do at Dartmouth! What are you up to this year?