You are here
« All Posts by this Blogger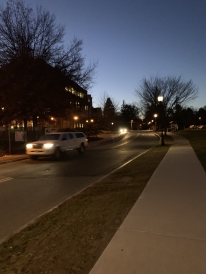 A Day in the Life of a '23
Hello everyone! Interested in what a day in the life looks like for a freshman at Dartmouth? Read on!
8:00-10:00AM
Rise and shine! Today is Wednesday, November 6th. On Wednesdays, I have two classes, as well as an x-hour for my third class. If you didn't know, x-hours are an extra hour of class that professors can use. Some courses never use them, other courses use them if class gets cancelled for some reason, and still others use every single hour.
McLaughlin is just a tad too far for my frequently-lazy self to drag myself to breakfast every morning, so I usually skip breakfast and spend two hours in the morning to myself with devotionals, some exercise, and any other work I still have to get done before the rest of the day officially starts.
10:10-11:15AM
My first class today is called QSS 15: Intro to Data Analysis. This course is certainly not the easiest statistics class (we have a couple options sprinkled throughout different departments) at Dartmouth, but I have learned so much about statistics and the math behind all of it, like t-tests and distributions. Professor Herron is an amazing professor who is super engaged with the class as well. We're having a pizza party at the end of the term where we present our final research projects to the rest of the class, which I am so excited for! My group is conducting a study on in-group bias and peer perception based on wealth.
11:30-12:40PM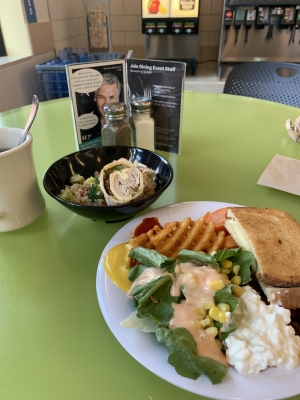 Time for lunch! I am usually starving by the time class ends, so I walk on over to FoCo (Class of '53 Commons, our buffet-style dining hall) to eat lunch and unwind before my next class. Sometimes I eat with friends, and other times I try to finish some work so I sneak up to the second floor of FoCo and put on some headphones. 
12:50-1:55PM
Another hour, another class. This term, I am taking Humanities 1 in place of Writing 5, one of the freshman requirements that Dartmouth students need to take in order to graduate. Today, we are meeting in seminars and ending our week-long discussion of Beloved by Toni Morrison.
2:00-3:20PM
I have some time to kill before my last class of the day, so I go back to my dorm, take a quick nap, and do some of the homework for my statistics class. I also review a couple of questions I had for my biology professor so I can take it to him during our x-hour. Learning to be productive in these small one-hour increments has been very important for me in managing my time and I think I'm finally getting the hang of it!
3:30-4:20PM
X-hour time! My Biology 11 class usually uses our x-hour to introduce problem-solving techniques that will be evaluated on during exams (such as constructing phylogenetic trees or differentiating gene duplication vs. speciation on cladograms), but since we have a quiz the next day, we spent this x-hour going over material and doing some practice problems. Biology 11 is definitely harder than I expected (some people have told me that upper-level courses were easier for them than this class!), but all the material is so interesting that I can't really complain or sulk too long before getting pulled back in.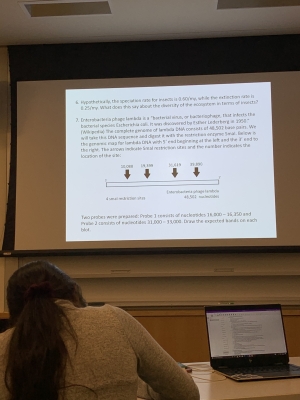 5:15-6:45PM
Ujima tech: I am in a dance group on campus and we have our baby show tonight! The team went over to the fraternity to run logistics and spacing before the big event. Most student performance groups (dance, a capella, improv) perform in Greek houses, but there are also events where they can perform at cultural celebrations or at the Hopkins Center.
6:45-10:30PM
There's no rest for the weary. After tech rehearsal, I go back to my dorm to do some work and study for my exam tomorrow. I also have a problem set due in the morning, so I crank out as much of that as possible before starting on my makeup for the show. 
10:45-12:00AM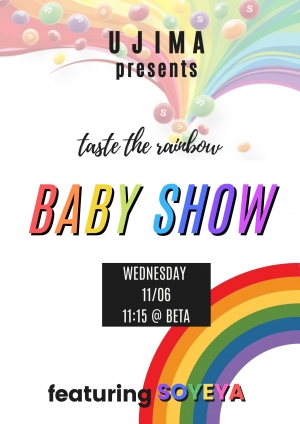 Showtime! The fraternity is completely packed and everyone is so excited to perform. Tonight, Ujima is performing a joint show with Dartmouth's African dance troupe, Soyeya, and I also see a lot of other directors and dance members from other groups. So many of my friends came to support me and I am so grateful for the communities that I've found at Dartmouth. Though it may seem cheesy, the people you find at Dartmouth are really what makes this school so special! My floormates came to see me, as did people from Agape (a Christian student organization) and friends I've made through other places on campus, such as in class, at the Tucker Center, or even just walking around.
12:30AM
Time for bed. Total disclaimer that I am not speaking for any Dartmouth student other than myself when I say that I go to bed between 11pm and midnight (I just don't get much done at night anyways). Because I have an exam tomorrow, after the show I get ready for bed in record-time and set an alarm for 7AM so that I can study some more and take on the next day with gusto. Sweet dreams!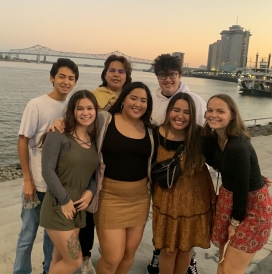 But at the end of the day, when people ask me what my favorite Dartmouth memories are, I'm always thinking about the place. Ice skating, pink sunsets, riverbanks, or canoeing? That's my highlight reel.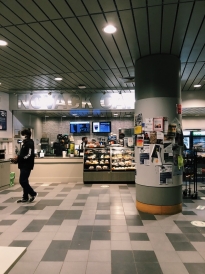 In a world where proper social distancing is so important, Novack Café has fulfilled a unique desire for current on-campus students; it's a place to study, hang out with friends, and grab a snack—all while staying COVID safe.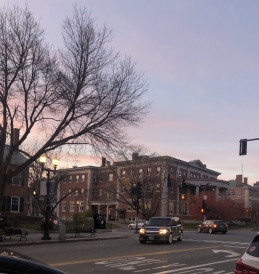 The last week of October was especially ~spooky~ as I was able to find more time than usual to enjoy my weekend with friends and the small-town-charm of Hanover.

While the student body at the College may be relatively small, students here recognize that their vote can hold a lot of weight in New Hampshire, a classic swing state.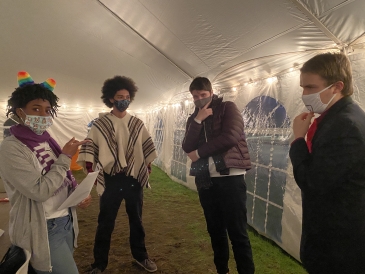 After walking around campus all day in eye-catching attire, we headed to a Murder Mystery night hosted by Phi Tau (a fraternity) in one of the tents scattered around campus.

On Friday, a few friends and I decided to take part in an event held by Collis After Dark, which organizes a lot of the student programming on-campus.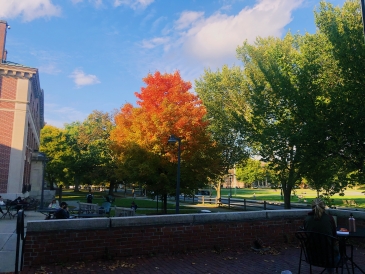 My personal visit to Dartmouth was a huge factor in my decision to apply, so in honor of Week 7, I hope this blog post can virtually illustrate some of what Dartmouth has to offer in seven images – worth 7,000 words!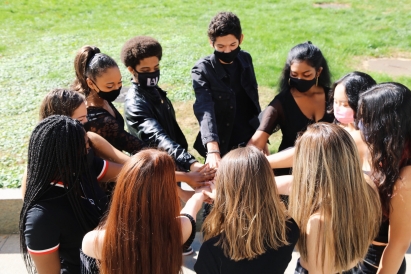 As a member of multiple performance groups on campus, I thought I'd give you a bit of background info on the opportunities here and discuss what we've been up to!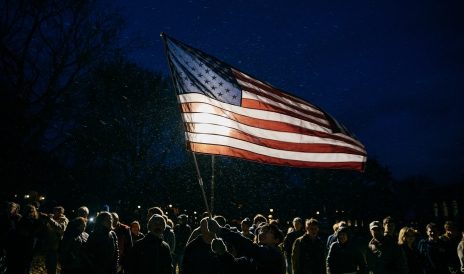 In honor of Veterans Day, I was able to interview student veteran Eugene Lovejoy '22 to hear about his experiences in the United States military and as a Dartmouth student. Read on to learn more!