« All Posts by this Blogger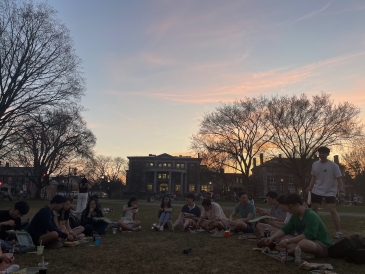 Christianity at Dartmouth
Hello hello!
This past weekend, I was out-of-town on a retreat with the Alabaster Group, which is a Christian church based in NYC that also serves Ivy League students. Every term, they hold a conference and invite students to come for the weekend, giving them the opportunity to take time out of their schedules to recenter, pursue God, and talk about life with like-minded individuals. I've met many wonderful people during these weekends, and grown closer to students from Dartmouth as well. I think it is important to talk with those who share similar values and with those whose character you admire; these retreats are places where I am able to do that away from the hustle-and-bustle of academics!
Alabaster is, however, just one of many ways to get involved with other Christians at Dartmouth. In this post, I'll talk a little bit about the Christian community and remaining centered on one's faith while in college. The road to your diploma and the professional world can be a difficult one, and any sort of support is helpful! I will note that there are also lots of other avenues to explore and grow deeper in other religions at Dartmouth as well. Since I am a Christian, I will just speak from my own experience!
Every Dartmouth Christian's faith journey is different. Some of us grew up in the church, whereas others came to faith during college. At Dartmouth, there are many ways to engage with one's spirituality, either through the Tucker Center, student organizations, community churches, or personal mentors. Due to COVID and other recent campus events, the Christian student organizations have been in a bit of a transition period since I've been a student. New groups are being formed whereas older ones are retiring, and naming specific groups may not be entirely helpful. Therefore, I suggest that if you are ever curious, the Tucker Center's website should have an updated list of Tucker Center-recognized groups, and reaching out to students who are listed as leadership will also help you learn about other organizations!
Getting involved with a religious group is all about what you want. Many groups hold retreats throughout the year to help members bond and talk about their faith in a designated space. There are also weekly meetings for fellowship and one-on-one opportunities for connecting and personal growth. As you navigate Dartmouth and meet people, you'll start to meet other students outside of formal spaces who share similar values. Older students often act as mentors for underclassmen even for matters outside of religion—therefore, if you ever need help, these faith-based communities could be great resources for you.
One of my very first friends and people who made me feel supported at Dartmouth was a '20 I met through Christian fellowship. As a senior now, I try my best to be there for others in a similar way. Though life hasn't always been easy, I lean on my values when times get difficult and I have to credit Dartmouth's Christian community for a lot of personal growth and development that I've had over the past few years. If you're looking for a group of individuals who share similar values, I highly encourage you to try out a religious or spiritual community!