« All Posts by this Blogger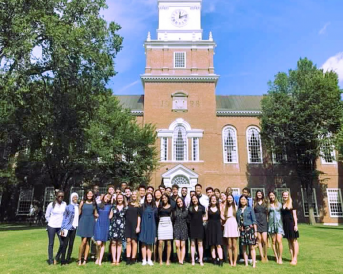 5 Small Things I Love About Dartmouth
I will be 100% honest with you: no school offers something that no other university does, Dartmouth included. Plenty of places might fit the bill when you look for things such as a great undergraduate experience, a liberal arts college, or a highly distinguished economics or government department. Just try it yourself: how many schools come to mind with just these three traits?
That's why the "fit" of a school is so important! It is how you engage with and see yourself at the institution which really informs you of your potential future at any given college. And interestingly enough, it is often the smaller things that can make you feel at home, not the big, catchy phrases that school pamphlets throw around. With all this being said, here are 5 weird, small, and perhaps surprising things that make Dartmouth home for me.
The Upper Valley
The quaintness of the Upper Valley and New Hampshire is just so endearing to me! I love the slow pace of life here that can balance out Dartmouth's crazy 10-week quarters, as well as how small and tight-knit the community seems. I think that every undergraduate can learn valuable lessons from the lifestyle here, especially since most of us will never live in a rural setting again post-graduation.
The Staff at Dartmouth Dining Services
All the staff at Dartmouth are overwhelmingly kind and always going above their job description. Ask any student where they like to eat, and we'll almost always name an employee we've gotten to know there as a reason why! Not many college campuses are small enough where you can get to know the staff, and fewer colleges exist where the staff want to get to know you.
Open Social Spaces
Greek events on campus are open to the entire student body. All you have to do is show your Dartmouth ID and you're good to go! No fees, no dress code, no weird restrictions based on gender, race, or social groups. I think this just goes to show how open our entire community is: if you want to get to know someone or step outside your comfort zone, there is always a way.
Sanborn Library
Baker-Berry Library is the quintessential Dartmouth library, but Sanborn is one of my personal favorites. It is the home of the English department and has an old charm with dark wood and lamps instead of the fluorescent LEDs you see everywhere else. When I have to write or read, I always enjoy coming here! And on the weekdays in the late afternoon, you can get free tea and cookies. Who doesn't love that?
Annual Snowball Fight
On the first snowfall of the winter term, an email gets sent out from Dr. Seuss to Robert Frost (cc'ing the entire campus) about a midnight snowball fight on the Green. From freshman to seniors, students from all across campus gather on the Green and spontaneously start throwing snowballs at each other (sometimes whether you know the other person or not!) If you asked me to name one Dartmouth tradition that perfectly encapsulates the Dartmouth student, this is it: free-spirited, open-minded, and all-in.