« All Posts by this Blogger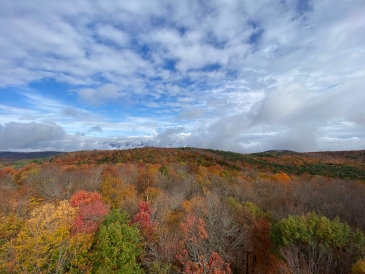 From the Big Apple to the Big Green
As I stroll through the Green and step on leaves that make that perfect, distinct "crunch" sound that we all long for, I realize how more and more beautiful Dartmouth gets every day. The season changed before my eyes with leaves shifting from rich green to vibrant orange, yellow, and brown. The autumn leaves manifest foliage beyond anything I've experienced. The closest I've ever gotten to see so many colorful trees of this magnitude was at Central Park. And if you're familiar with the park, it's positioned right in the middle of one of the noisiest and popular cities in the US: New York City.
That's right: I am transitioning from going to school in one of the busiest skyscraper-filled cities to living in the quiet grasslands of Hanover. It's definitely an adjustment, but I'm here to embrace it all. Do I miss the tall buildings and city lights? Yes. Do I miss being able to self-navigate? Of course. Do I miss taking the subway every morning? Not really. Dartmouth provides me the opportunity to escape the city life for four years and experience nature in a new light. College policies might have changed this year, but the beauty during the fall term has not!
My first attempt at becoming an outdoorsy person was trusting a group of my friends as they guided me through a beginner-friendly trail. We walked and chatted for about two hours while waving hello to the frogs and chipmunks we met along the way. We then sat on the ground where we got a clear view of the Connecticut River and took a moment to appreciate all that we had around us. And, wow, was it amazing. 
 
Taking a "break" from hiking, I also decided to participate in some new fall activities! Once again, I attended some programming board events, and this week, I was able to paint some mason jars while eating one of the best cider donuts I've ever had. After arriving at the tent where the event took place, my friend and I stood before the table bearing the tools for our success: paint, stickers, yarn, and brushes. We took this moment to let our creativity run wild (after Googling "DIY painted Mason Jars") and let our inner Picassos do the work. Am I an artist? No. Did my mason jar turn out the way I envisioned it? Not really. But, did I continue to enjoy the outdoors while painting with friends and eating fall-themed foods? Oh, yes!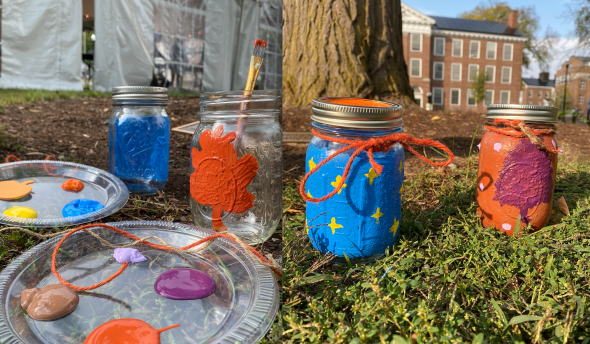 Dartmouth has been the perfect place for me to come out of my city shell and put myself out there to experience what college has to offer. There's no doubt that I miss "the city that never sleeps," but Dartmouth is creating quite the spectacle of its own.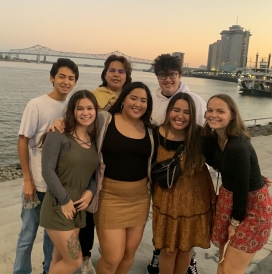 But at the end of the day, when people ask me what my favorite Dartmouth memories are, I'm always thinking about the place. Ice skating, pink sunsets, riverbanks, or canoeing? That's my highlight reel.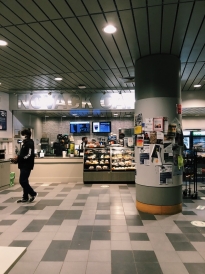 In a world where proper social distancing is so important, Novack Café has fulfilled a unique desire for current on-campus students; it's a place to study, hang out with friends, and grab a snack—all while staying COVID safe.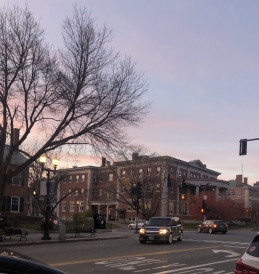 The last week of October was especially ~spooky~ as I was able to find more time than usual to enjoy my weekend with friends and the small-town-charm of Hanover.

While the student body at the College may be relatively small, students here recognize that their vote can hold a lot of weight in New Hampshire, a classic swing state.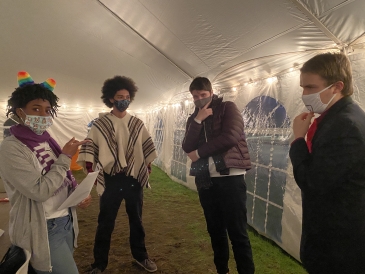 After walking around campus all day in eye-catching attire, we headed to a Murder Mystery night hosted by Phi Tau (a fraternity) in one of the tents scattered around campus.

On Friday, a few friends and I decided to take part in an event held by Collis After Dark, which organizes a lot of the student programming on-campus.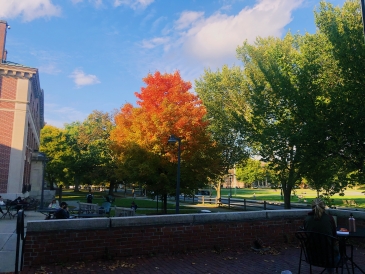 My personal visit to Dartmouth was a huge factor in my decision to apply, so in honor of Week 7, I hope this blog post can virtually illustrate some of what Dartmouth has to offer in seven images – worth 7,000 words!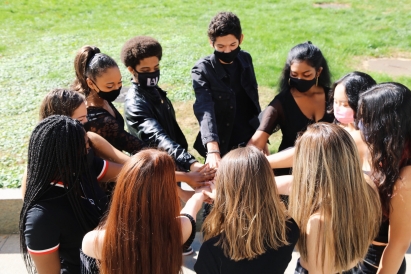 As a member of multiple performance groups on campus, I thought I'd give you a bit of background info on the opportunities here and discuss what we've been up to!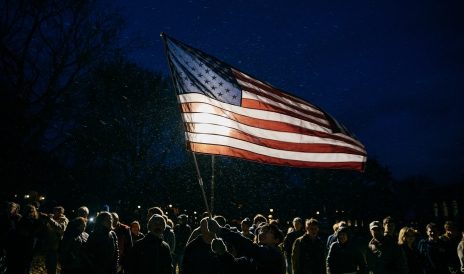 In honor of Veterans Day, I was able to interview student veteran Eugene Lovejoy '22 to hear about his experiences in the United States military and as a Dartmouth student. Read on to learn more!