« All Posts by this Blogger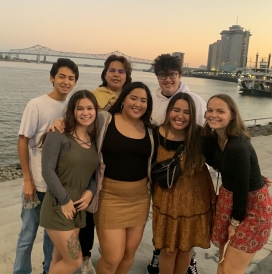 Zoom, Stop Making Me Miss My Campus
As I near the end of my second fall term as a Dartmouth student spent in the beautiful city of New Orleans, I've learned a lot — not just about what works for my own learning process, but what I truly want to do during my time at Dartmouth and how differently I want to (safely) spend my next time on campus.
New Orleans has been wonderful. I've logged a ton of streetcar rides, taken tons of pictures, sampled too many restaurants, and maximized city life despite COVID (I can still only imagine how much better it would be if we didn't have to DoorDash most restaurants). But while gallivanting around the city, I can safely confirm the ancient saying that absence makes the heart grow fonder. I truly just miss my campus.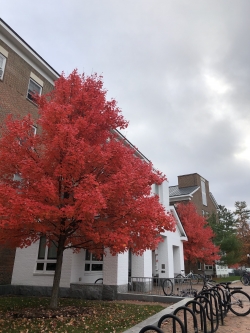 Being separated from my home-away-from-home in Hanover, I really started noticing the little things I took for granted — things like little spots in town, or the constant ability to go on a gorgeous hike, or just looking at the Connecticut River during a sunset. While walking postcard-worthy New Orleans streets, studded with these beautiful, old-fashioned, Southern-style houses, I found myself missing the stereotypically New England homes we'd pass on our way to Occom Pond for ice-skating. I even started to miss being soaking wet through all of my "waterproof" hiking great during my First-Year Trip (which was already made infinitely more enjoyable and bearable through the combination of fearless + inspiring trip leaders and the best trippies possible). More than anything, that sense of place that only Dartmouth can provide is a feeling that is sorely missed and I have made it my new mission to take full advantage of everything in the Upper Valley whenever I get to reincorporate her lovely air into my college life.
After speaking to so many different prospective students, a lot of people ask about what being in Hanover is like. Many of my friends come from cities and I've lived in relative suburbia for most of my life, but most recently lived in close proximity to Washington D.C. (totally a full-fledged city in its own right, don't laugh at me LA/Miami/NYC). Hanover is very different than what I was used to, but it is so important to understand the beauty of Hanover's geography in its own context. Comparisons don't work. Hanover is Hanover, and I miss it so much.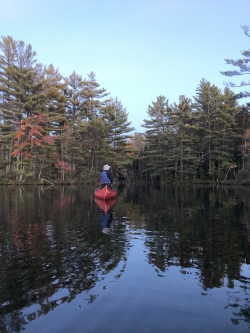 It is ridiculously easy to get caught in the academic gears of college life. We all want to join clubs, do research, get the best grades possible — that's college stuff 101. But at the end of the day, when people ask me what my favorite Dartmouth memories are, I'm always thinking about the place. Ice skating, pink sunsets, riverbanks, or canoeing? That's my highlight reel. It's shown me how much more important and fulfilling the non-academic can be, and yet how intertwined enjoying yourself can be in fostering healthy academic habits. I go outside, I can focus on my work — who knew? 
Next winter, I plan on being on campus, and frankly, I cannot wait to be able to breathe the Hanover air again. During my terms on campus as a freshman, I didn't nearly take advantage of everything I needed to in order to maximize the environment's role in my college experience. Seeing my campus through my professor's virtual background is all good, but I miss studying in the shadow of Baker Library (or at least with Dartmouth's campus outside my window). In the meantime, I'll soak up as much New Orleans as I can for the time being, but I'm counting down the days. Until next time, stay safe!