« All Posts by this Blogger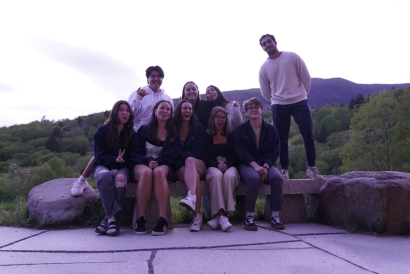 Live, Laugh, Lodj: Dinner at the Moosilauke Ravine Lodge!
To celebrate a wonderful first spring term, my friends and I got together for a dinner at the Moosilauke Ravine Lodge (or simply, "the lodj"). Located at the base of Mount Moosilauke, the lodj sits at a beautiful place and going there for the first time during my First-Year Trip is one of my favorite earliest Dartmouth experiences. It's a place where I met many of my current friends and a place sorely missed over the past couple years, but being able to go there this term has immediately been a highlight.
For the spring term of 2022, all students could make an individual reservation and eat dinner there completely free of charge. The dinner changes by the day and is cooked entirely in-house. From what I could tell, the position of "Head Chef" changes on a nightly basis, so Although you can stay at the lodj overnight, we opted for the dinner route—it's finals season! We ended up carpooling and eleven of us took an hour-long roadtrip north to the lodj where we were greeted with a dinner of freshly-baked cheesy bread, tomato soup, honey-baked chicken and tofu, and a dessert of seven-layer bars. 
Let me just say that our lodj dinner was incredible. In retrospect I think that it was one of the most memorable meals of my term. I went for the vibes because hey, dinner in a beautiful cabin mountain lodge off-campus? How do you say no to that? But the food was so much better than I could've imagined that I have been raving about it ever since—massive thank you to the wonderful chefs (all of whom were alumni or current Dartmouth students)!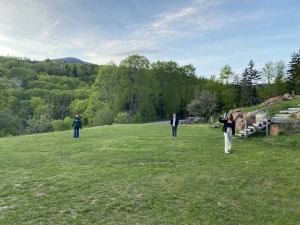 After dinner, we decided on an impromptu photoshoot outside in the twilight. Thanks to the wonderful Julia Levine '23 for being the best photographer ever (the picture at the top of this post is all her!). We threw a frisbee around, my friends bought "lodj"-themed sweatshirts, and we totally forgot about it being week 9 for like five hours. It was exactly the kind of getaway I needed to mentally refresh and soak in some elusive vibes during the busiest part of the term. Doing things that shift your gears away from the academic whirlwind, I'd argue, both epitomizes the work-hard, play-hard mentality that I think Dartmouth students embody and actively battles the inevitable stress buildup. Burnout can feel really real, but that's exactly what friends and food are for! 
If you're a Dartmouth student and haven't made it up to the lodj yet for your very own evening getaway, I can't suggest it enough. And if you're '26…I will just say that I'm so excited for you to see this place for yourself when you go on trips. Till next time!