« All Posts by this Blogger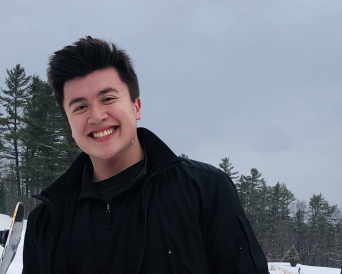 First-Gen Friday!
Welcome to People Places Pines! Each week in the month of April, student bloggers will be bringing a post to you called "First-Gen Friday" — a series of interviews with current Dartmouth students who are the first in their families to have a traditional four-year college experience. This week, Gabe Gilbert '23 sat down with members of the admissions office to answer questions about what it's like to be part of the first-generation, Indigenous, and Questbridge communities at Dartmouth. Be sure to check back each Friday for a new student feature!
Describe your community on campus. 
At Dartmouth, my community is populated by fellow First-Generation/Low-Income (FGLI) students who are active in several of my social circles on campus, which consists of fellow Questbridge students and also the First-Year Student Enrichment Program (FYSEP) attendees. On a day-to-day basis, I find my closest friends in Dartmouth's Indigenous community.
How have professors supported you as you transition to college?
My professors have been there for me extensively. Each of them have held office hours to provide extra help outside of class on their own time. One of my Linguistics professors mailed me a textbook for a class because it would've been a financial difficulty to purchase it. The professor for my First-Year Seminar met me outside of class at the Dirt Cowboy cafe to go over an essay with me during his own busy schedule after flying back from a conference in California the night before. My professors have been there, nonstop, and constantly supportive in order to see me succeed. Sometimes it's just a matter of asking for help, and help you will most definitely receive.
What does Dartmouth's financial aid mean to you?
Because of Dartmouth's financial aid, I am able to go to a world-renowned university without being an incredible financial burden to my family. I have seven younger siblings, all of whom live at home, and my parents often have enough on their plate trying to put food on the table to have to worry about college expenses. My mother came to this country from the Philippines at the age of sixteen, and had to work nonstop to forge a menial livelihood for herself, and my father was a college dropout. For my family, I represent their hopes and their versions of the American dream, and I'm happy to try my hardest because Dartmouth has realized college as a possibility for me.
Why did you choose Dartmouth?
I chose Dartmouth because of its beautiful location, its community intimacy, and its overwhelming focus on the undergraduate experience. I wanted to go to a school with faculty and peers that are passionate about the things they love, and I found in Dartmouth a place where the intimate learning environments I dreamed of really existed. Dartmouth's Indigenous and FGLI communities also truly cemented this place as somewhere I love to be, and I can't imagine it any other way. It's become a second home.
How has Dartmouth enabled you to learn more about the world at large?
Some of the professors I've had like Gordon Henry and Alexander Chee are renowned authors in their field and provide a very nuanced perspective while also treating us students, even as First-Years, as their equals in the classroom. The collaborative learning environment and multicultural student body makes it so easy to hear different languages and stories from around the world, but especially from the corners of the United States that I often forget about. I learn from faculty first and foremost, but I've learned a countless amount from my friends. My friends are the first people I turn to whether to ask for help with a language, knowledge about their communities, or lessons they've learned from their own cultures, and I'm so fortunate that Dartmouth put us all in one place.
What advice do you have for first-gen and low-income students as they choose a college?
Look at your future peers. Look at the lives of current FGLI students and ask them about their experiences. Ask them for their stories. See how their college treats them in all aspects of student life. I was empowered by my Dimensions mentor, Kellen Appleton '20, who was a fellow Questie and consequently found a wonderful place here (and a great dorm!) with his advice. He helped me solidify my choice and I couldn't be any happier with it. Ask upperclassmen, and if they have good things to say after spending one, two, three years at this school, it very well might be the place for you.