« All Posts by this Blogger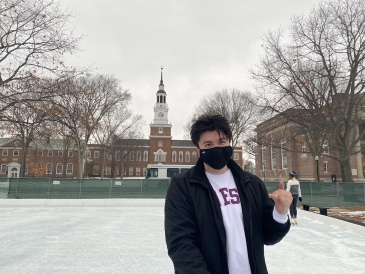 21Winter, or Why Skiing Rocks
At the time of my writing this post, I'm about to start Week 6 of my second term as a sophomore at the College. I didn't anticipate almost an entire year passing before I'd see my beautiful campus again, but here we are!
Last winter, I definitely didn't manage to do everything I wanted. Winter in the Upper Valley is a special experience that scales with your interest. This term I decided to take complete advantage of more of the frosty opportunities that going to school here provides, so as soon as my quarantine period ended, my friends and I made a trip firstly to secure boba from a new place that opened in town (easily some of the best boba I've had) and then secondly to check out an ice skating rink that Dartmouth set up on the Green.
In order to allow for students to socialize and vibe without violating social distancing and other pandemic precautions, Dartmouth set up a complete ice skating rink on the Green. You can rent skates from Dartmouth for free and they'll give you your size and then it's straight to the ice. 
If you read any of my older posts about my previous winter, you might know that I am the worst ice skater ever. The rumors are true: I'm still a terrible ice skater, but what if I told you that I managed to go a few yards without a trash can to hold onto this time? It's true. Believe it.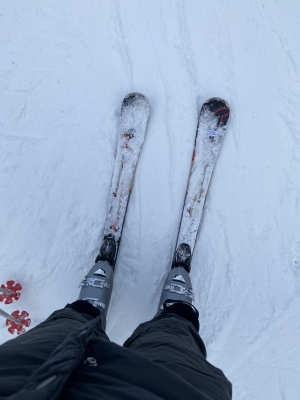 Additionally, I am now taking ski lessons with Dartmouth! I was able to rent ski boots and skis from Dartmouth, and received financial aid that will cover the cost of my lessons and equipment rentals so long as I attend at least three classes. Additionally, I'm covered with a ski pass and everything, and free transportation is provided for Dartmouth students to and from the Dartmouth Skiway. Where else can you find an opportunity like this? 
You could truly say that in the past term I've come to develop a greater love for winter. Coming from warm places, including Myrtle Beach where I now live, I don't see snow very often at all. It's so hard to explain how beautiful of an experience it is to look out the window while studying and see falling snow, or have the option of going ice skating with my friends at a moment's notice, or making excuses for us to get hot coffee from Novack or from town. Quintessentially Dartmouth, I couldn't imagine it any other way. It's a lowkey kind of charm but it's truly something that warms the soul even on the cold days. 
If you couldn't tell, Dartmouth won me over on winter. Watch it win you over too! If you're an incoming or prospective student, remember to take full advantage of these opportunities because they are singular and wonderful and make the long hours spent studying worth the best study break. Hope you're all keeping warm and well, and see you again soon!