« All Posts by this Blogger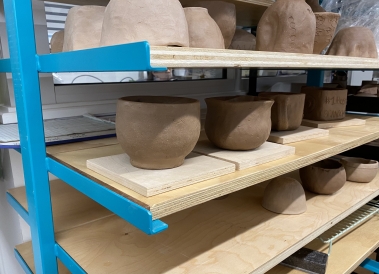 Pinch Pots at the HOP
Some of my favorite spots on campus are housed at the bottom of the Hopkins Center (HOP), where you will find the woodworking, jewelry making, and ceramics studios. I had a slow Thursday this week, so my friend and I signed up for a beginner pinch pot lesson in the ceramics studio. We were greeted by Jennifer, who guided us through a free two-hour session and gave us some clay to get started.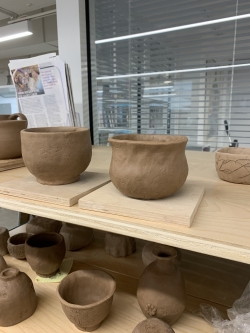 She showed us how to section off a third of the clay, working it into a circular shape before we pressed our thumb through the middle, hollowing out the center. The process was methodical and calming, and honestly, a much-needed stress reliever in the facing of an impending economics final. I also became more aware and appreciative of my fingers as I felt out sections that were clunky and uneven. While my friend crimped out the edges of his bowl, I added a "foot" or a pedestal to the bottom of my pot. 
Throughout the session, I watched as more advanced students and instructors worked the pottery wheels and traced intricate designs on their completed projects. They cheered us on, admiring the natural finish of our pots—we chose to leave our fingerprints on them instead of smoothing them out. 
But our pots were far from finished! We set them on a rack to dry for a month, and we'll return to glaze and fire them; progress coming soon . . . For prospective students who are nervous to tackle college in a small town, pottery at the HOP is just one among many free, affordable activities Dartmouth has to offer.