« All Posts by this Blogger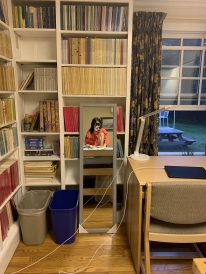 Finding Community Through Housing
Most of my on-campus housing experience at Dartmouth (three out of four in-person terms) has been in a Living Learning Community (LLC). These housing clusters are for students with similar passions or identities and who live and participate in specialized programming. During my freshman year, I lived in the Humanities LLC with floormates interested in writing, reading, singing, theater, dance, and philosophy—floormates that are my best friends today, as a junior. However, this term, I knew a lot of friends would be on an off-term, so I decided to branch out and apply for the Chinese Language House (CLH).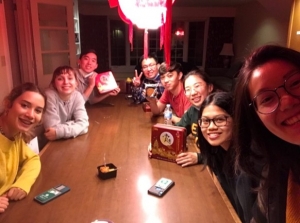 The CLH is a cozy, traditional-style Chinese house with a kitchen, living room, and dining room. It houses only 8 students and typically a live-in professor and his family from Beijing Normal University. Beyond the community, I primarily joined the CLH to practice speaking Chinese in a beginner friendly environment. There are students who have only taken the advanced introduction level class (CHIN 4), and there are students who have completed the language minor (CHIN 41). About half of the students in the language house aren't even majoring or minoring in Chinese, but we all have a shared passion for Chinese culture and language. 
Already, the CLH has done some pretty cool group activities together from eating dinner at FOCO, playing backgammon in our rooms, and attending archery sessions with the DOC. We also do activities related to Chinese culture like making family-style meals together and celebrating the Mid-Autumn Festival. To mark the beginning of fall, we mastered our Chinese while enjoying takeout from Han Fusion and snacking on mooncakes. 
I'm really happy with my decision to live in the CLH. For starters, my room is a library (like actually, it was converted into a living space). But most importantly, I've gained a solid friend group, a chance to practice speaking Chinese, and a snippet of Chinese culture.