« All Posts by this Blogger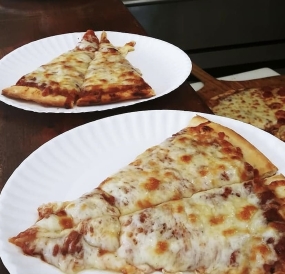 Pizza, Pizza, Pizza!
During Winterim, I worked at my family's pizza shop in Dana Point, California! I have spent so many of my childhood days working alongside my dad and will always cherish the memories that I have made in a place made of four walls. 
I started working in middle school and have been welcoming guests, maintaining restaurant cleanliness, and operating a social media page ever since I can remember. I am grateful for the experiences that I have gained in our restaurant and am so glad that I got to meet so many kind and amazing people from all over California. Some customers told us that they even traveled from San Francisco to visit us. 
When I applied to Dartmouth, I wrote about our family restaurant, more specifically about being a breadstick, and the meaning behind my metaphor.  For me, my family's history revolves around me like dough and is a big part of my identity. I created an essay that gave the admissions committee a different perspective of me, something new that wasn't included in other parts of my application. I wanted to share the experiences that I have lived and how it has shaped me into the person that I am today. I shared my goals, motivations, and gratitude for life. 
When I was applying to colleges, I wanted to go somewhere with a similar tight-knit community feel, a place where I would be able to flourish and improve upon myself. Now, as I enter the Winter term of my freshman year, I know that I made the best decision ever, which was applying to Dartmouth.  
I remember spending so many months on this essay, and I was so happy when I submitted my entire application. I knew that I did everything to the best of my ability and was proud of the final product. To prospective students, I think the best piece of advice I have is to show your true self and be proud of yourself for everything that makes you, you.
P.S. Here are some pictures of my Winterim!