« All Posts by this Blogger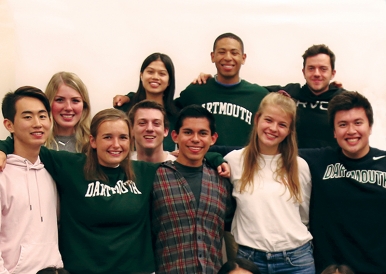 Why I Blog
When I thought about my college experience in high school, I always knew I would pick up an on-campus job. It made sense to me—I'd have lots of free time to fill, and it's always nice to have a bit of spare cash for the weekends. Still, I never figured I'd have such a cool job. So, let me share with you a bit about why I love blogging.
I was a big fan of the blog before coming to Dartmouth. Whenever I had a question about campus-life, academics, or anything college-related, I always turned to People Places Pines. What I liked about it most was that the bloggers were real students who had once been in my shoes; they knew what questions I had about Dartmouth because they wondered the same things themselves just a few years ago. Plus, I felt that the blog gave me insight into what being a college student was really like—admissions brochures are great, but nothing beats a Dartmouth student when it comes to describing life as a Dartmouth student.
So, when I saw a link for the blogger position in the Dartmouth Class of 2023 Facebook group, I immediately got to work; I sent my writing samples and attended an interview with my awesome supervisor, and a week later, was hired as an Undergraduate Admissions Blogger.
I love blogging. I love it because the blog was an essential part of my college application process. And that is why I blog. I know that there are lots of high schoolers out there who are not quite sure if Dartmouth is the right fit for them and, if I can help even one of them make that decision, I know I have done my job well. Lastly, I blog because People Places Pines gives me an opportunity to share my favorite college experiences—I blog because I love Dartmouth.