« All Posts by this Blogger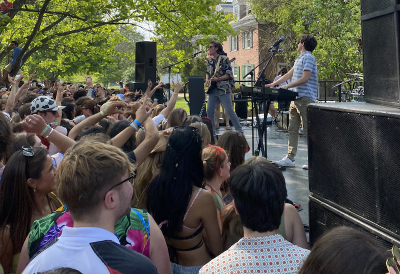 My First and Last Green Key
Covid-19 disrupted life in many ways. At Dartmouth, like in most academic institutions, the plan to prevent spread of the virus meant moving classes to a remote format and sending students home — thus, my class's college experience was like no other. Our first-year and sophomore spring terms were on Zoom, and we didn't get the opportunity to experience what many students call their favorite season on campus. Things went back to normal my junior year. However, I decided to study abroad at the end of the year and missed yet another spring in Hanover. My senior spring was, therefore, my first and last Green Key! A lot happened this week so it's hard to summarize it all, but here are some highlights.
Classes
Knowing that this week is not about academics, professors tend to assign work before or after festivities start. Therefore, classwork was lighter than usual this week and I had more free time to chill and have fun with friends. Plus, all of my professors canceled class on Friday!
Free Food
There's food everywhere! The Collis Center for Student Involvement brought in free tacos; a Greek house had a crawfish cookout; and another sold chicarrones and fruit cups for the Fuerza Fund. 
DJs
Before this week, I didn't know there were so many DJs on campus. There were performances/dances at Greek houses throughout the week, and a student-DJ opened for Neon Trees for the main show on Friday. There was even a DJ at '53 Commons during late-night dining. 
Block Parties
In addition to student DJs, there were a lot of live bands and professional DJs on campus this week. Webster Avenue, where the majority of fraternities are, was actually blocked off on Friday so no cars could drive in or out — students took up the entire road to watch performances the entire afternoon. 
Neon Trees
And last but not least, one of the highlights of my Green Key experience was the main act: Neon Trees. Once again, the roads were shut down to allow students to roam freely around the stage, taking up all of Tuck Drive. Neon Trees and Cochise were great and the energy was off the charts. Most of campus was there — it was awesome!