« All Posts by this Blogger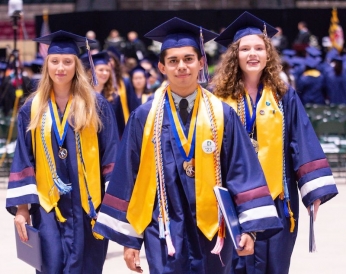 For the Class of 2025: How to Make the Best of Senior Year
Hi all!
Time flies. As I write this blog, Dartmouth is preparing to welcome the class of 2024. And even though they have not yet made it to campus, it's time to start thinking about the future class of 2025. It's exciting! The '25s will start their senior year of high school in just months; this is an important time for many reasons and, as a former high school senior, I'd like to share my tips for how to make the best of it.
1. Take Care of Yourself!
Senior year is, to put it simply, a lot. You will be juggling harder classes, test prep, friendships, and lots more. It can definitely be a bit overwhelming at times, but do remember to step back and take care of yourself. Do this in whichever way works best for you—give your friends a call, go on a walk, read a book, play video games, or dance to TikTok songs in your room. You are only a high school senior once, so make some good memories you can look back during your college years. Trust me, you will thank yourself later.
2. Start College Applications Early
When it comes to college applications, I think the best tip I can give you is to start early. Application deadlines always seem to sneak up on students. November 1st may be months away, but it is a good idea to finish your work well ahead of time. Responsibilites pile up during senior year not only for you, but for the teachers and guidance counselors who will be writing countless letters of recommendation in the coming months—they will appreciate all the extra time you can give them to write you the best letter possible.
3. Follow Through
In my experience, senior year comes in two stages. First semester, when you become a work machine; and second semester, when you forget high school exists. The second half is exciting, for sure. By May 1st or earlier, you will know where you will be spending the next best four years of your life, and it will be the only thing that matters. This is an awesome feeling! However, do remember that you still have to finish high school. You will want to do your best in AP, IB, and any other final exams—many colleges will allow you to use those scores to skip introductory courses, which will give you lots of room to explore your interests. Also, remember that colleges do take a look at the second half of your senior year, so make sure you keep your grades up and follow through with any commitments.
Lastly, I want to say good luck. Senior year is unpredictable no matter what is going on in the world, and it is normal to feel overwhelmed. Take breaks when you need them, and make some great memories. And to the class of 2025, I can't wait to meet you!