« All Posts by this Blogger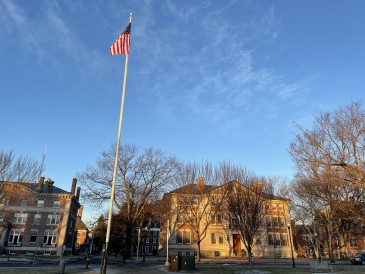 Interview Breakdown: A Guide for Prospective Students
Applying to Dartmouth College is an exciting journey, and a key part of the admissions process is the Dartmouth Admissions Interview. This interview is an opportunity for prospective students to meet with a current Dartmouth student or alumni and discuss their interests, experiences, and why they're interested in the College. Having recently met my two-year mark since I had my own Dartmouth interview, I thought I would talk to the director of the Admissions Ambassador Program, Meg Lysy '99,  in order to learn more about this process. Here's what you need to know about the Dartmouth Admissions Interview and some tips to help you prepare.
What is the Dartmouth Admissions Interview?
The Dartmouth Admissions Interview is a way for the College to get to know you beyond what's written in your application. The interview is conducted by a current Dartmouth senior or alumnus. Interviewers are usually from a region near you and are trained to ask questions and assess your fit for the College. The interview is an opportunity for you to share more about yourself and ask any questions you may have about Dartmouth.
What is the purpose of admissions interviews? 
Dartmouth puts a lot of effort into organizing and conducting interviews by overseeing an extensive volunteer network composed of alumni. This is all done in order to give students an opportunity to share about themselves in a more informal manner. Admissions officers really want to learn more about who you are as a person, so use this opportunity to share!
How are interviews conducted?
Interviewers will contact applicants to arrange a time and modality for the interview. Interviews usually last between 30-45 minutes. During this time, you will be asked questions about yourself, so show up willing to share! You should expect questions about academics and extracurriculars as well as future aspirations; you can see some sample questions here. While it can definitely be nerve-rattling, interviewers are there to hear your story for your benefit, so shake the nerves! Be prepared to tell your interviewer more about yourself. 
How to Prepare for the Dartmouth Admissions Interview
Research the College: Before your interview, take some time to research Dartmouth College. Read about the academic programs, extracurricular activities, and student life. Interviewers will want to know what about Dartmouth appeals to you, so knowing the basics about the College will give you a foundation for your conversation.
Bring a resumé: All interviewers know about you is your name, contact information, and high school. While not at all necessary, providing them with a brief resumé could be helpful for them to understand more about the things you do and give them an overview of your interests and extracurriculars. This could also help you feel as if you don't have to rattle through everything you spend time on. During the interview, providing detail and nuance in your application can be more helpful. Use this as an opportunity to offer more insight into who you are as a person, maybe by talking about things that you haven't had the opportunity to share elsewhere in your application.  
Review Your Application: Review your application before the interview to refresh your memory about the experiences and accomplishments you've shared with the College. This can also help you think about how you can elaborate on these experiences during the interview.
Prepare Questions: Come up with a few questions you'd like to ask your interviewer about their experience at Dartmouth. This is a great opportunity to learn more about what it's like to be a student there.
Be Yourself: Remember, the interview is not an evaluation, it's a conversation. The interviewer wants to get to know you, so be yourself, share your experiences and interests, and let your personality shine through. By being confident you will be better able to tell your story and allow your interviewer to convey that in their report. Attitude is everything. 
Express Your Gratitude: Interviewers are taking the time and effort to meet with you, so sending them a short thank you email or expressing your thanks in person would be a really nice gesture. 
What if you didn't get to talk about something? 
During your conversation, interviewers might not ask you about something you wanted to cover. Don't be afraid to take ownership of the conversation. This is your time to add detail, clarify, or talk about things that didn't come up in the regular flow of conversation. No one can tell your story as well as you can, so take ownership! Remember that interviewers want to learn as much about you as possible. Don't be afraid! 
Final Thoughts
The Dartmouth Admissions Interview is an important part of the admissions process, but it's just one part. Your academic achievements, extracurricular activities, and essays are just as important. The interview is an opportunity to showcase your personality, interests, and fit for the College, and by preparing beforehand, you'll be well on your way to making a great impression.
Good luck, and we hope these tips will help you as you prepare for your Dartmouth Admissions Interview!