« All Posts by this Blogger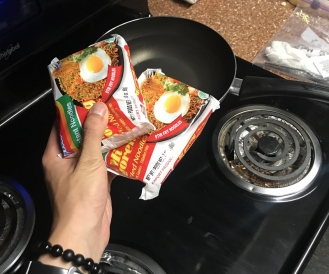 Indomie and Pie: A Birthday Surprise
Here was my schedule for last Tuesday:
9:00-2:00pm: Classes

3:00pm: Lunch at FOCO (Dartmouth's all you can eat buffet.)

8:00pm: Gym

9:00pm: Meet up with one friend at said gym, come up with some weird excuse to go to her dorm where about 10 of her friends are hiding with a pie from Lou's and multiple packets of Indomie.
So yeah, not exactly your typical Dartmouth Tuesday.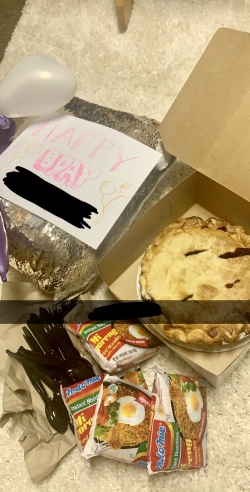 I should explain. A week before the big day, a few friends and I discovered that one of our good friends was celebrating her birthday soon. Obviously, she had no idea that we knew, so we wanted to find a way to surprise her. On the big day, we got the aforementioned multiberry pie, some plates and utensils, and a large quantity of my personal favorite— Indomie.
For the uninitiated, Indomie is only the greatest brand of instant noodles that have ever graced the Earth. Granted, they're Indonesian like me, so I'm biased, but I think my point still stands. As for Lou's, that's one of Hanover's local diners with such good food. I can't do it justice with words. You'll have to try it yourself. 
Back to the story. Around Monday night, through some clever Google calendar stalking, we found out that our friend was going to the gym on Tuesday at 8:30. So, when I saw her in class that day, I ever-so-subtly asked her:
"Hey, you going to the gym today?"
"Yeah. 8:30."
"Oh, cool. You mind if I come with?" (Nailed it!)
Now the hard part. As we were about to leave the gym, I had to make up some excuse to go back to her dorm:
"Hey, do you mind if we go back to your dorm first? Your roommate texted me saying that I left my Nalgene water bottle there."
Where's my Oscar?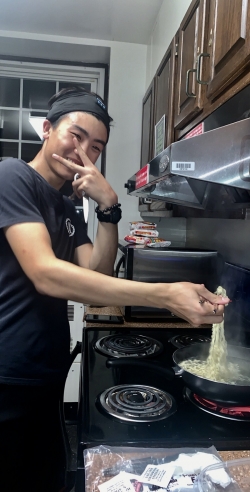 Once there, as she opened the door, the ten of her friends (all crammed into a tiny closet) jumped out and surprised her. She was so surprised, in fact, that her first reaction was to turn to me and ask:
"Wait, where's your water bottle?"
We had a good time, though! I cooked the noodles while we all sat and chatted around the pie.
Stuff like this is exactly what I'm loving about Dartmouth right now. I think the people here genuinely care. A lot of us here devote a lot of our time to academics, especially on a weekday night. But, at the same time, people here also care, hence why they'll drop all that to make a friend feel at home. It creates a sort of kind and welcoming atmosphere that I think you'd be hard-pressed to find anywhere else. Even if it means stalking your friend's Google calendar and lying to their face about where you left your water bottle.
And finally, if you're reading this (and you know who you are): Happy 18th!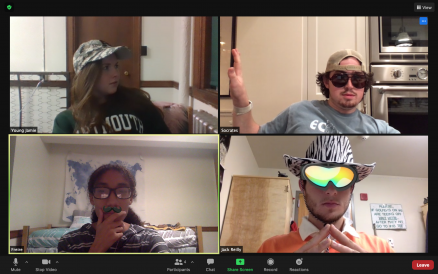 Holden Caulfield, Socrates, Paulo Freire, and Young Jamie got together via Zoom and put together a play for my writing course.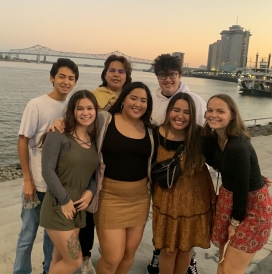 But at the end of the day, when people ask me what my favorite Dartmouth memories are, I'm always thinking about the place. Ice skating, pink sunsets, riverbanks, or canoeing? That's my highlight reel.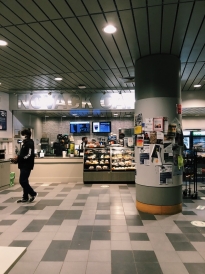 In a world where proper social distancing is so important, Novack Café has fulfilled a unique desire for current on-campus students; it's a place to study, hang out with friends, and grab a snack—all while staying COVID safe.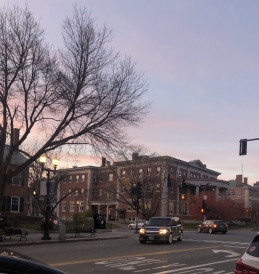 The last week of October was especially ~spooky~ as I was able to find more time than usual to enjoy my weekend with friends and the small-town-charm of Hanover.

While the student body at the College may be relatively small, students here recognize that their vote can hold a lot of weight in New Hampshire, a classic swing state.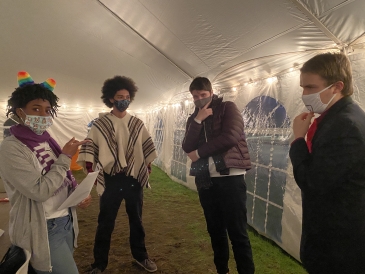 After walking around campus all day in eye-catching attire, we headed to a Murder Mystery night hosted by Phi Tau (a fraternity) in one of the tents scattered around campus.

On Friday, a few friends and I decided to take part in an event held by Collis After Dark, which organizes a lot of the student programming on-campus.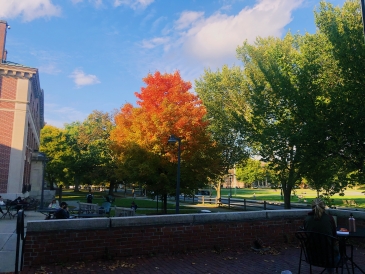 My personal visit to Dartmouth was a huge factor in my decision to apply, so in honor of Week 7, I hope this blog post can virtually illustrate some of what Dartmouth has to offer in seven images – worth 7,000 words!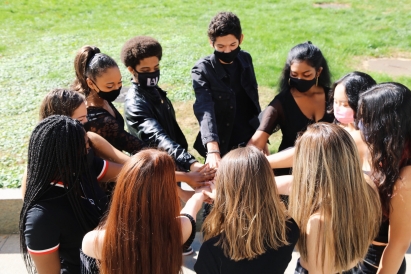 As a member of multiple performance groups on campus, I thought I'd give you a bit of background info on the opportunities here and discuss what we've been up to!