You are here
Fall

On Campus

BIOL 11.07 (Major Events in the History of Life and the Human Genome) is a very unique class. We learn topics such as oxidative phosphorylation in conjunction with evolution and paleontology. In other words, where and when did ETC come from, and how can we support our hypothesis? Though not an easy class by far, every day the material I learn amazes me with the wonder of life, which is how biology should be!

Winter

On Campus

MES 7.03 (Jerusalem: Vision and Reality) was my First-Year Seminar and such an interesting class to take! We explored Jerusalem through three main viewpoints (Judaism, Christianity, and Islam). The class had a bit of religion, literature, anthropology, sociology, and even geography—all things I love to study but don't necessarily have the space for with our three-class quarters. I often found myself going to office hours just to talk with my professor about questions I had outside of the reading!

Spring

Remote Learning, At Home

COSC 10 (Problem Solving with Object-Oriented Programming) is a data structures course and the last pre-requisite for the computer science major. Though I added it as a fourth class on a whim because of COVID-19 and remote learning, it quickly became my favorite class this term because I loved the problem solving that CS has to offer. It is a difficult class but the emotional and academic rewards make it all worth it!

Fall

Remote Learning, At Home

This was one of four classes I took during fall term and it was super interesting! We learned about healthcare systems and innovations from around 4 guest lecturers per week, and were able to do research on our own and propose a new system at the end of the term. Students came from all over campus and the course was very enlightening for me in terms of understanding how care is dispensed in the U.S. and how we can improve it.

Fall

On-campus

As a pre-med, I am constantly trying to learn more about the U.S medical system. This course was extremely engaging in all aspects, taking students through all of American history through the lens of healthcare within the span of 10 weeks. I particularly liked having a discussion session that replaced a lecture, since we were able to talk about the issues with the professor and think out loud about our readings. The course was definitely challenging and required a lot of synthesis across different time periods and topics, but I feel like I came out of it with a deeper and more profound understanding of our healthcare system and why it functions the way it does today.

Winter

Detroit, MI

For my junior winter, I did an internship in clinical research! With COVID affecting so much of my college experience, this practical, in-person work internship was very important for me to not only hone my employable skills but also see what having a 8am - 5pm job looks like and how it could fit into my future.

Spring

On-campus

Much like my other pre-med courses here at Dartmouth, Biochemistry was quite rigorous and fast-paced. It was certainly challenging, but I found the work extremely rewarding and I enjoyed learning about all the different mechanisms that happen inside of our bodies. Additionally, many of my friends were also in this class as well, rounding out final prerequisites for graduate school, and this fact made it all the more fun.

Summer

Dresden, Germany

For my junior summer, I had a research internship in Eastern Germany, working at the intersection between math, computer science, and biology! The learning curve was very steep since my project focus changed once I arrived in Europe, but I had a lot of fun and learned a lot about the content and myself. I am extremely thankful for all the support that Dartmouth has given me throughout my time here, without which I wouldn't have been able to do a 12-week European adventure!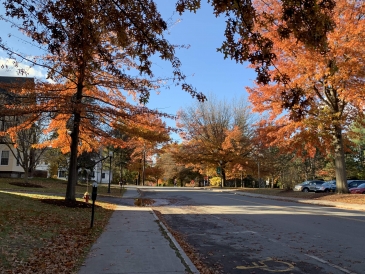 The Still North in Our Hearts
Since coming home, I've missed a lot about Dartmouth: my friends, activities I was a part of, and even just the physical campus itself. One thing I didn't expect to miss was the Upper Valley.
Pages