« All Posts by this Blogger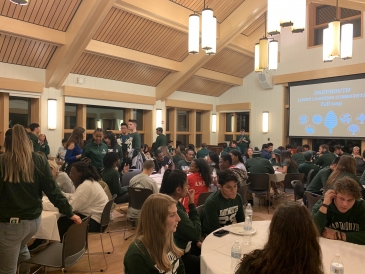 Staying Connected During COVID
During the coronavirus pandemic, thousands of Dartmouth students are living around the world. Without the ability to remain physically connected with one another, we've had to rethink ways to develop and maintain relationships.
In some ways, the situation has made it difficult to meet new people. Normally, I'd say that Dartmouth students form bonds through seeing each other in passing: in class, in Baker-Berry Library or at Novack Cafe, or during passing period. Now, our main option to connect is always scheduling a phone call, which can be awkward with someone you barely know. Other mainstays of the Dartmouth lifestyle (art performances, guest speakers, weekends, etc.) have also been put on hold for the time being.
Despite all this, I've also been able to find good in these past few months with our classic Dartmouth can-do spirit. For example, I've found that calls with friends have also been great for deepening relationships. On campus, I am usually very busy and spend time with others in passing, as I've said—studying together, grabbing lunch before class, doing club activities together. In other words, our time was frequently spent doing something. Now, friends and I take the time to schedule a call to actually sit down and have dedicated time together, which has resulted in very meaningful and eye-opening conversations.
The classroom has also experienced a transformation during the pandemic. All of my classes this quarter are remote but meeting synchronously, which means that we are taking class through Zoom together at a designated time. Many of my professors have gone to great lengths to achieve more communication during our class time so we can meet other students, work through problems together, and have a greater support system. My math class, for example, has weekly group assignments where we work on a few problems alone, come together to discuss our results, and then present our final answers to the professor.
In a different vein, my physics class uses breakout rooms quite frequently. The professor will give us a question to ponder over and then split us up into groups of four or five so we can verbally work through a line of reasoning (rather than him just giving the answer to us). Through these two changes alone, I've been able to meet other students and feel less isolated from my desk in Michigan. One fun benefit of this type of "e-learning" is that I am actually meeting more new people than I'd anticipated! During normal class times, these types of group activities would be done with friends I'd already had in the class, but with the randomized breakout rooms, this is no longer the case. It's actually been really fun to see all the different types of people who take the same classes.
Lastly, a major component of the Dartmouth experience is the student life that runs separate from the college and one's personal life. This involves student organizations, Greek life, academic research/competitions/etc., and more. Most, if not all, of student-led endeavors have found ways to remain connected during COVID and eagerly welcomed the challenge. Dance groups, for example, re-vamped the audition system this year to better fit the virtual and remote framework so auditions will be completely remote and done on one's own time. Dartmouth Humanitarian Engineering, a club that does a lot of hands-on work in mechanical engineering, has shifted the idea of general meetings every week into meetings that are specially scheduled for speakers or important updates (so grateful for student leaders who recognize the danger of Zoom fatigue!) And lastly, pretty much all Greek organizations are having organized, virtual rush events so that interested parties can learn more about each group.
Though the past few months haven't been easy, Dartmouth has done a fantastic job at shifting online and making sure that we can all stay connected during COVID. It is times like these that I am grateful for the tight community that I get to be a part of, one where everyone is dedicated and actually interested in cultivating relationships with our fellow students. During a recent Zoom dance practice, one of the upperclassmen was talking about her main purpose in continuing with auditions, holding remote open practices, and creating a space for the '24s to join our group, and it was precisely this idea of inter-class connection, mentorship, and friendship. The friends you make at Dartmouth will be friends for life, and we would love to meet you someday!