« All Posts by this Blogger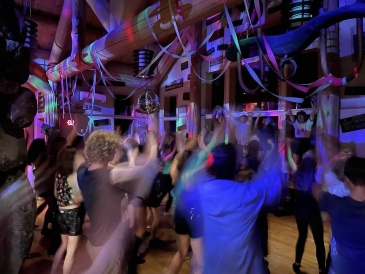 Lodge Prom!
Last week I went to Lodge Prom!
Many student organizations have their own traditions: quirky fundraisers, trips to nearby attractions, or formals / dances. The Dartmouth Outing Club (DOC) has a termly tradition where they host a "prom" at Moosilauke Ski Lodge, which is owned by the College and takes about an hour to get to.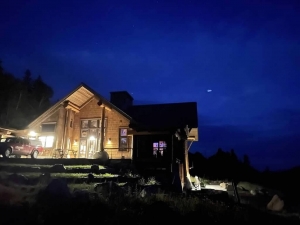 The dance is open to all of campus, regardless of your previous affiliation with the DOC or any of its sub-groups. Students sign up individually, and if able to secure a spot (the dance is limited to around 100 people because of venue capacity), will get transportation to the lodge, an amazing dinner, a fun night of dancing, a sleepover in the bunkhouses, and a great breakfast in the morning before heading back to campus!
Additionally, everything is free for attendees, so nobody is encumbered by costs. You can come as you are or dress up to the nines—everyone is able to dress in a way that makes sense to them; though labeled as a "prom," the dance isn't a formal event and is simply a way to have fun with some friends and get good food.
All in all, I found the dance very fun! I really enjoyed the hour drive to the ski lodge: I was able to see some great scenery and spend some time with one of my friends during the drive. I loved the dinner (we had an amazing salad and shakshuka!), and the dancing itself was also really fun—many of the songs that we learned dances to on Trips were played, and it brought back both a lot of memories and a lot of adrenaline as everyone suddenly remembered the dances and started moving in unison.
Sleeping in the bunkhouses was also a treat, as was breakfast together in the morning before we had to get back to campus and resume life as normal. One of my favorite parts about Dartmouth is definitely these special little opportunities that you would be hard-pressed to find anywhere else (a dance with free food, transportation, and lodging at a ski lodge?), and I'm super happy that I was able to attend Lodge Prom for the first time my sophomore summer and dance the night away!