« All Posts by this Blogger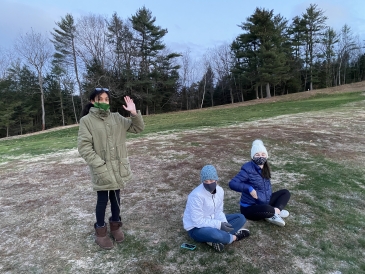 From Winterim to the Winter Virtual Fair
Hello everyone! 
I'm back to writing these blogs and sharing my college experience! It's the beginning of Winter term (yay) but here is some insight on what happened in between!
On the last day of fall term, my friends and I decided to stay up and attempt to complete what is known as "Lou's Challenge." This challenge usually entails students staying up all night and heading to Lou's Diner (a great diner in Hanover) as soon as it opens. Attempting to participate in Dartmouth traditions, we stayed up all night in the spacious common room and went to FoCo (our Dining Hall) as soon as it opened! That night, we played Super Smash Bros, a long game of The Settlers of Catan, and went to visit the sunrise. It was a nice way to spend our last day on campus. 
That morning, I packed up to leave and slept the whole car ride back to New York. I loved my time in Hanover, but I missed my parents, siblings, and of course, my dog! After Thanksgiving, it was time for...drum roll please...finals! Yes, finals. Traditionally, Dartmouth holds its finals period before Thanksgiving, but this year they gave students more time to safely move out of campus. 
Finals at home weren't as bad as I thought they were going to be. I was thankful that all of my professors remained connected and available for last-minute questions and review sessions. After completing a research paper, an anthropology group project, and a chemistry exam, I was done for the term and began my "winterim." 
"Winterim" is a combination of the words "winter" and "interim." This term describes the period between the end of the fall term to the beginning of the winter term, so late November to January. This winterim, besides spending time with my family, I worked as a program coordinator for STEMchats, a student-led non-profit aiming to shatter the barriers in the STEM fields for underrepresented students. My main project was to help coordinate with the team (and another '24!) and finalize logistics for a virtual ideation to be hosted in February. We contacted speakers, reached out to sponsors, and are now soon beginning the registration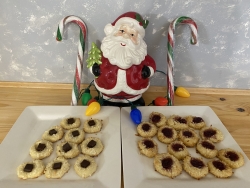 process for high school students! I also took this period of time to finish reading some books, tutor, and bake cookies! 
New Year's soon came with the winter term right around the corner. This term, I will also be on campus (woo-hoo) and am beyond excited to show you what the winters in Hanover have to offer. The Winter Virtual Involvement Fair took place the weekend after our first week on an online platform! This is like a club fair, where students hop around from Zoom to Zoom to interact with new campus organizations or just stop by to say "hey!" With this fair, it finally occurred to me that I need to rebuild my structured school schedule and get used to waking up early...
Just to keep you in the loop for the course of my term, I will be taking Biology 013 (Genetic and Inheritance), Public Policy 5 (an introductory course), and my First-Year Seminar focused on politicized topics in biology. For the next few weeks, I will be planning some fun events such as a virtual murder mystery, a sledding/skiing trip, live watch parties, and more! Stay tuned!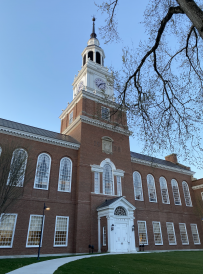 As we approach graduation day, I continue to reflect on my time at Dartmouth. I've learned a lot about myself over the course of the last four years, but here are three of the most important things I've come to realize...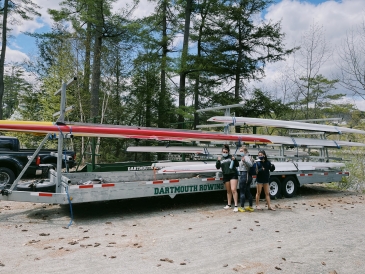 Here is a glimpse into the gorgeous outdoors that sits on and hugs Dartmouth's campus. On this fine May afternoon, my friends and I paddled down the Connecticut River for the first time now that the Ledyard Canoe Club opened services. We had a blast!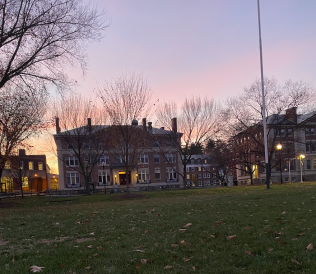 Let's talk about job offerings on campus and how to secure a position!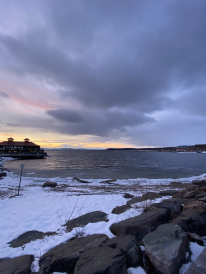 Although Dartmouth's campus can seem remote at times, there are actually lots of fun places to explore nearby! Read all about my day trip to Burlington here!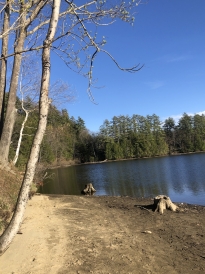 With the weather slowly turning towards spring and midterms (mostly) over, my friends and I decided to take a little trip down to the stream for some swimming.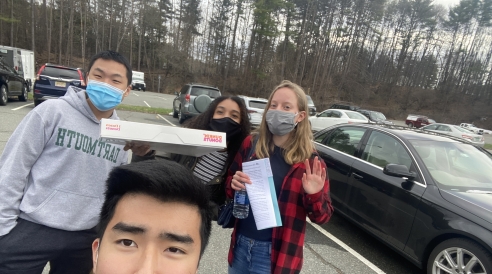 As a student trapped in the pandemic for over a year now, I can vividly see the light at the end of the tunnel as I begin my vaccination process!

Dartmouth is a very outdoorsy place. However, you don't need to be involved with any outdoor clubs to fully experience the outdoors Dartmouth and the surrounding area have to offer. Sometimes, you just need a free day and some friends!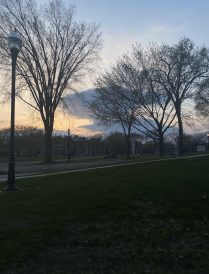 As I navigate a virtual senior spring term, I'm taking account of all of the fun ways to enjoy this term. Here's a list of three of my favorite spring activities!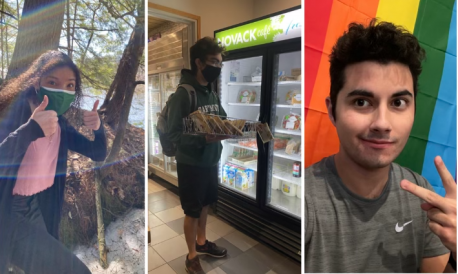 Today, I decided to walk around campus and asked my friends what their favorite aspect about Dartmouth is!