« All Posts by this Blogger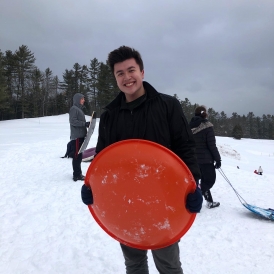 Sledding the Stress Away with My First Friends
The idea of Dartmouth's unlimited snow used to be intimidating, but the past two weeks have been full of peaceful coexistence between students and seasons like no other. To celebrate our first three-day weekend and wrapping up Week 2, a bunch of my friends and I decided to take to the Hanover Country Club, just north of Occom Pond, to go sledding on the golf course. We retrieved a bunch of sleds from the Native American House — a Living Learning Community built around celebrating Indigenous values and lifestyles and also where the Dartmouth Indigenous community has most of its meetings. After selecting our sleds of choice, we made the very brief trek to the golf course.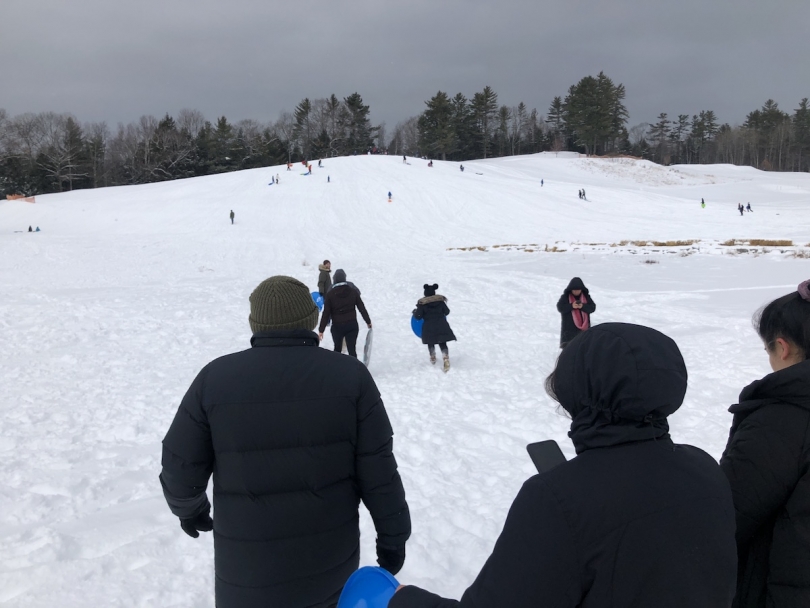 Going to the north side of campus reminded me of when I first arrived to campus. The first event of Native Pre-Orientation was actually a dinner right after getting back from my First-Year Trip at the neighboring DOC House on the south-side of the golf course. We passed that house and I realized it's actually been almost twenty weeks since that first dinner where I met almost everyone I was now going sledding with. And here we are, sharing almost every meal and going on random impromptu sledding trips. Thanks, Pre-O.
The golf course was abuzz with families, a handful of other Dartmouth students, and surprisingly a lot of middle-aged people armed with skis and snowboards. Joining the fray, my friends and I hiked up a snowy hill with our freely-obtained Walmart-brand circles and looked down with very eager eyes.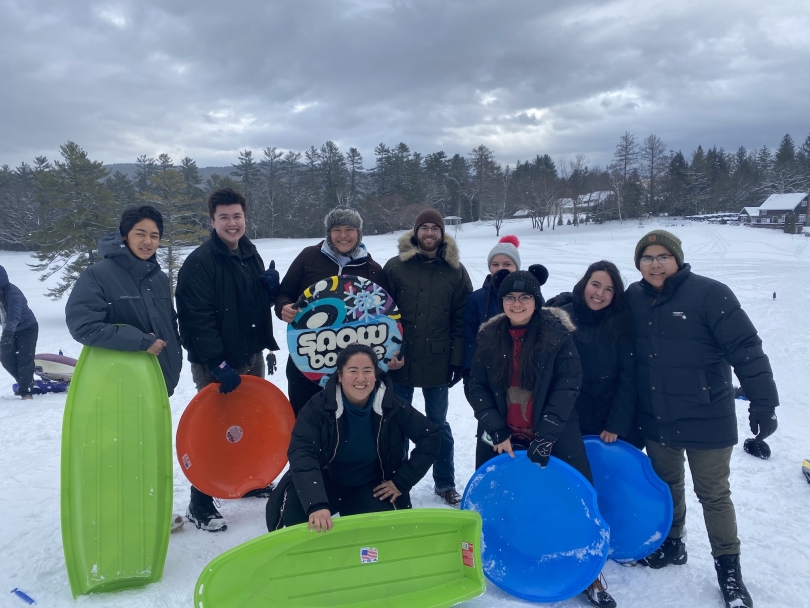 A few members of our party had never seen snow before coming to Dartmouth, but here they were ready to take on a downhill slope like seasoned veterans. Their energy was infectious, and after a little photo shoot at the top of the hill, we decided to let loose.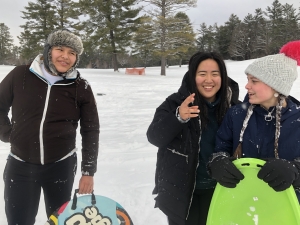 The system we worked out was pretty functional — we'd freeze at the top, glide down (and most of the time, if I'm being honest, we wiped out and got snow everywhere), and to warm up, try running up what was rapidly changing from a hill to a mountain. And I loved it.
The shower and coffee after this little excursion was like regaining my soul. The Dirt Cowboy, a coffeehouse just down Main Street in the same building as Tuk-Tuk (best Thai place, hands down) makes a very mean "mochachino" (mocha cappucino, aka the superior coffee drink — get two shots, three if you're studying). 
All in all, this was the best way to return to sledding since I lived in Kansas. And I will definitely be back very, very soon.