« All Posts by this Blogger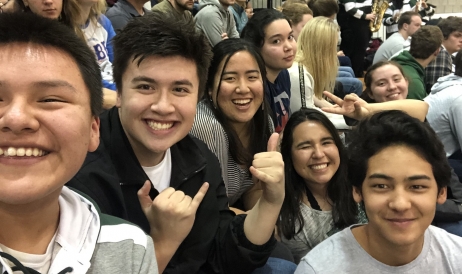 Beating Cabin Fever with Basketball
As the weather remains frosty in force, it's easy to forget the outside world exists. In the safety of the library, we can read about the outside without having to experience it, and for many, that's enough. But keeping warm is so much better when you're cheering on your favorite basketball team — or even better, if you're actually playing it. 
Week 3 came quickly for me and my friends. All of my classes decided to go big or go home this week, so I wanted to find a way to release some stress and have some fun at the same time. One of the big things at Dartmouth is the house system. Everyone at Dartmouth is a member of a house, largely based on the geographic location of your dorm but in my case based on my building. I'm a member of West House, which puts me and my roommate in a house with some of my friends that live on the other side of campus near the Connecticut River - the westernmost part of campus. Being in West House means Tuk-Tuk dinners and fun house events almost every week, but this month it also means having the opportunity to join West House's Intramural (IM) basketball team. 
Disclaimer: I'm horrible at basketball. I'll play with my friends at the gym sometimes, and if I'm feeling up to it, I'll shoot for thirty minutes alone on the weekend. But I most definitely am not good. My friend Pete doesn't think he's good either. But we both signed up for West House's IM team, and we had one of the most enjoyable Friday evenings since being at Dartmouth.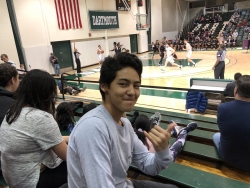 I got to play alongside my friends and floormates against East Wheelock House and School House. We demolished East Wheelock and lost very narrowly against School House in a game that had the sidelines (a vast majority of which were mine and Pete's friends) on their feet. Intramural basketball didn't have to go that hard, but it did. 
The first home game of Dartmouth Men's Basketball happened at the end of Week 3 on the Saturday after our first IM games. I think it's easy to forget sometimes that Dartmouth is a Division 1 school. Our athletes are ridiculously talented and just from the ones I can happily call my friends, are beyond dedicated to their sport. That being said, the opportunity to watch my first Dartmouth basketball game was an opportunity I couldn't pass up. 
Being a Dartmouth student means free admission, and our meal plan enabled us to buy concessions too, so there was no complaining. We got some amazing seats and it was really nice to see both Dartmouth students and members of the Hanover community just enjoying the time. We played against Harvard in a really close game that we ended up losing by just four points, so I'm not too mad. Will we win the next one? Yes. 
All in all, beating cabin fever via basketball, both playing and watching, has been a great way to diversify the weekend. Dartmouth's sports culture can understandably be lost in its academic culture, but I will most definitely keep taking advantage of 1) free admission and 2) those pretzels in the concession stand, because I most definitely haven't seen them in Foco.
But on a more personal note, basketball has always meant a lot to me even if just to watch. It's something my family would do together and playing outside with my friends when I was younger was an integral part of my childhood. During the time of my writing this, the world bids farewell to Kobe Bryant and his daughter, who passed away earlier today. This post is dedicated to Kobe and his family, for giving so much to a beautiful sport and who will be sorely missed. Thank you. 
I hope you all are staying warm and I'm looking forward to next time. Aloha.