« All Posts by this Blogger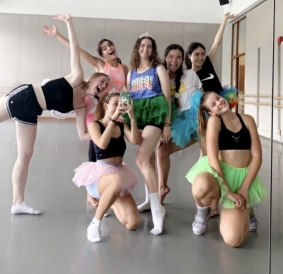 Summer Performing Arts Groups at Dartmouth
One of the most fun parts of Sophomore Summer (the term that rising Juniors take on campus) is the existence of student-led summer performing arts groups! The few members of each performing arts group that are on campus for the term will audition new members and run a more casual version of the group for the summer. As summer co-director of my dance group, Sugarplum, I'm leading "Splenda." Along with two hip-hop groups, Sheba and Ujima, we auditioned over 150 people and ended up inducting 50 people with little to no dance experience into our group for the summer. Although Sugarplum is usually an all girls group, our cohort this summer includes both guys and girls. We rehearse three times a week and are preparing for two shows in August. Taking away the competitiveness that surrounds some of these groups enables the greater Dartmouth community to experience how wonderful the performing arts community is here. 
An all female acapella group, the Subtleties, and an all boys group, the Cords, joined forces this summer to form the "Cordelties." They auditioned talent from all across campus and ended up with a dynamic group of singers and non-singers — all excited to make music together. An improv group, Dog Days, is running "The Dog Days of Summer" in a similar fashion, though they were a bit more selective than other groups. Over 40 people showed up to audition — only seven were accepted. New Dog Day member Vanessa Haggans says of the group "it has been a fantastic experience to push me out of my comfort zone at Dartmouth. Never did I ever think that I would spend my summer doing improv!" 
Sophomore Summer is certainly the time to try new things. Groups like these make it possible!