« All Posts by this Blogger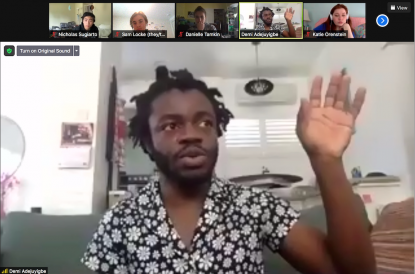 Conversations with Demi Adejuyigbe
One of the benefits of Dartmouth is that you get to talk to really, really cool people. And I don't just mean the programming the Hop does (which includes getting to talk to people like the one and only Trevor Noah, as well as Big Mouth creator Nick Kroll), but I mean even at the individual student organization level.
For reference, a bit of background first. The Hop is the Hopkins Performing Arts center. That's where the theatre, music practice rooms, and dance studios are. They're the ones with the big budgets, and are responsible for doing fall plays, symphony orchestra shows, so on and so forth.
Collis is responsible for more "fun" events. They're the ones who book the performers for Green Key, Fallapalooza, and the little events like ice skating on the Green here and there.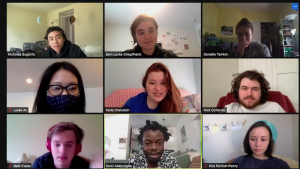 Both of these groups have had really big impacts on my Dartmouth experience. I doubt I would have gotten the chance to meet these people and listen to them talk otherwise. But, obviously, there's not much freedom when a programming board chooses who you get to talk to.
And that's where clubs come in. Dartmouth actually gives each club on campus a budget to hold whatever events they wish (within reason). And that's how I, as co-president of Dartmouth Comedy Network, was able to help bring professional writer Demi Adejuyigbe to campus. 
Now, if you don't know who Demi is, let me tell you. He's simply amazing. His credits include Craig of the Creek, The Amber Ruffin Show, The Late Late Show with James Corden, and even my personal favorite TV show of all time, The Good Place. You can check out all his really cool work here. And, just through a cold email, we were able to host an open-to-campus workshop with him.
He was as amazing as you could imagine. For about three whole hours, sat down with us, answered all our many, many questions, and just shared his insights into comedy. Not only that, but he read our sketches that we pitched to him, and gave us super, super helpful feedback on them. Just picking apart his brain, and hearing his stories really showed us how high caliber real professional comedians are. 
And the best part? It was all on Dartmouth's dime. Now, Demi was so amazing, that I don't think the money was a selling point for him on us. The enthusiasm he brought is something that shows how genuinely passionate he was about helping us. But, it was our way of saying thank you to him for taking the time out of his busy schedule to hang out with us. And that just goes to show you the kind of explorational freedom we have here at Dartmouth. This now would be the 4th workshop I've hosted, each speaker as amazing as the last. I've talked one-on-one with so many amazing people who have given me insights into worlds I've never even imagined, and my time here has been all the better for it.