« All Posts by this Blogger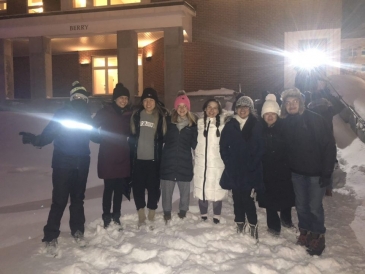 Dartmouth's Annual Snowball Fight
The legend is simple: during the very first snowfall of winter term, a mysterious email from Dr. Seuss gets sent to Robert Frost and the rest of the Dartmouth campus, with a poem inside inviting the reader to a midnight snowball fight.
Everyone knows that the email is coming when the ground starts becoming thick with snow and slush. One interesting fact about Hanover in particular is how much it snows during the day—in Michigan, we often woke up to discover a fresh snowfall but don't often see the snow billowing about during the day. The first time that I saw the blizzard, I was studying in the stacks of Baker-Berry and quickly sent my family a video of the surprise. Though it made walking around a bit more difficult (I hadn't planned ahead and was wearing simple, non-waterproof boots), I must say that the snow was really beautiful!
The tradition of having a snowball fight is one of the many things that Dartmouth students have to look forward to each year. Everyone goes out to the Green at midnight and starts a good old-fashioned snowball fight. My floor went together as a group and we spent an hour pelting each other with snowballs, trying to escape some radically violent floormates, and sometimes even standing around, trying to look like innocent bystanders who don't deserve to get attacked. Though I had a class at 8:50AM and a first quiz of many the next day, I'm extremely glad that I went out and spent some time with my friends.  
At Dartmouth, I would say that we emphasize the ability to have fun in both the classroom and in our daily lives: your schedule shouldn't just consist of things that you have to do, but also things that you do for no reason at all, other than to be with others! The annual snowball fight is just one example, and the three big weekends each term also give people reason to celebrate (those being homecoming, Winter Carnival, and Green Key).
When the snowball fight ended, we walked back to our dorms and, one-by-one, went to bed. I showered to restore feeling in my extremities and hit the bed with a relieved sigh. Just before I clocked out, I remember hearing some other students on their way back, laughing and sliding their way back to their dorms. Though we all have work and responsibilities in the morning, this snowball fight was a nice way to forget all of that for a second, and release our inner child. After all, who says that you can't have a little bit of childish fun every now and then?