You are here
Fall

On Campus

This class had an emphasis on really learning the material, rather than mindless regurgitation. Every class lecture truly excited and interested me, and readings were thought-provoking, The final was also a project instead of an exam, which was very fun to complete. I could tell Prof. DeSilva was also very passionate about the class materials as well!

Fall

On Campus

My first sociology course at Dartmouth. It goes very in-depth about the macro immigration policies in-place in America and how it relates to different immigrants' experiences. I found it intriguing because I'm an immigrant myself, and I also was able to analyze and develop a different outlook on my family's experiences as well. We had interesting projects such as immigrant interview assignment, immigration policy brief, and in-class discussions.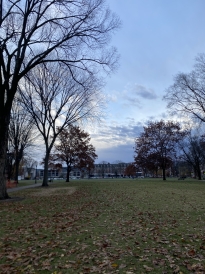 My Long Journey Back Home
With finals coming to a close at the end of Week 10, I am officially done with my first term at Dartmouth!
Pages