« All Posts by this Blogger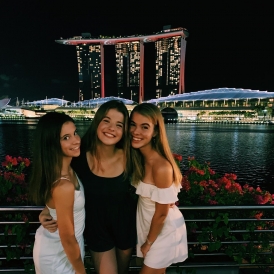 Dispatches From Singapore: Part 1
Never in my wildest dreams could I have imagined that I would be back in Singapore for the Spring. My initial spring break plan was the rowing training trip down to Clemson, South Carolina! News about Dartmouth's response to COVID-19 was released over the course of finals week. The first thing to change was the cancellation of our training trip, then our Spring rowing season, the first half of Spring term, and eventually 20S in its entirety. On one of our last days on campus, a couple friends and I hiked nearby Balch Hill to watch the sun set over campus. I booked my flight back to Singapore with another teammate of mine who is also from Singapore, Sophie Inkster. On the Saturday after finals week, we said goodbye to Dartmouth for the foreseeable future. It was a heartbreaking ending to an incredible freshman year.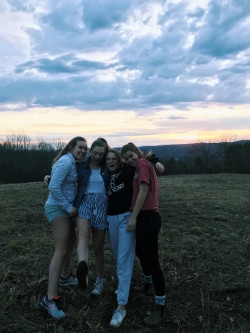 Boston Logan Airport was absolutely full of college students rushing to catch the last flights home — there were eight Dartmouth students on our flight to San Francisco! Sophie and I stopped to get some ramen before boarding the 16-hour flight back to Singapore. The flight was almost completely empty, as Singapore was one of the first countries struck by COVID-19. We could see our families through the doors separating baggage claim and the arrivals area. The reunion was so sweet. Tears were certainly shed!
These past few weeks have been quite the adjustment. Both my sisters have transitioned to online learning and my parents are working from home, so at least one person in our household is on Zoom at any given time. Let me tell you that my dog, Aspen, is quite happy with the company she now has! My days have consisted of a lot of erging as I've tried to keep up my fitness from winter training, sleeping (my sleep schedule is fully absurd), catching up on good books, and hanging out with family. I've stayed connected with my various groups on campus — my rowing team held a Zoom call with all 40 of us while my dance group, Sugarplum, has been busy using TikTok to show off our new quarantine choreography.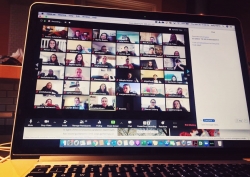 Spring term started a couple days ago, and it has been great to get back into a routine. I'm taking four classes this term as opposed to the usual three — a lot of my friends and teammates are doing the same. My First Year Seminar, a curricular requirement for freshman at Dartmouth, is "First Amendment Rights on College Campuses." The class is asynchronous, meaning that we don't meet on a regular basis, though we have called as a class a couple of times! I'm also taking English 94 "Modern American Drama" with Professor Pease, who has been teaching this class since my dad's days at Dartmouth. We meet on Monday, Wednesday, and Friday at 12:50pm EST. The time difference means I'm up until 2am on those nights, but seeing my 94 classmates' faces on Zoom makes it worth it. In preparation for each lecture, we are expected to read a play — all the quarantine time has made this possible!
For my government major prerequisite, I'm taking Math 10: "Introduction to Statistics." We meet during the 10A period, which is Tuesdays and Thursdays from 10pm-12am my time. My fourth class is a crosslisted history and government course that was just developed, called "History of Epidemics." Taught by Professor Benjamin, who runs the Dickey Center for International Understanding, the class is composed of a series of recorded lectures from faculty members of a wide variety of departments across campus. From learning about how the Black Death was portrayed in medieval art to literature from the AIDS Crisis, this interdisciplinary course will strengthen my understanding of the implications pandemics have on society. We are expected to watch the lectures on our own time but are also sorted into discussion groups which will meet once a week over Zoom. I can't think of a more relevant course for this Spring.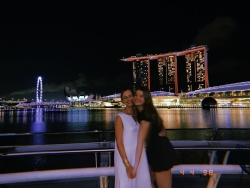 It's been fun to reconnect with friends from home during this crazy time. Sharing my freshman experience with new '24s as they make their decision as to where they want to spend the next four years has been incredibly special. I cannot wait to be back on campus in the Fall and show them exactly what makes Dartmouth so unique. 
I'm looking forward to writing these dispatches and sharing what online learning looks like from across the world in Singapore! Stay safe, healthy, and kind.
Signing off, 
Bryanna