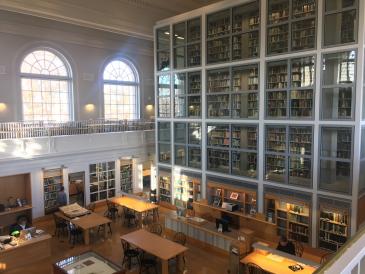 VIP Pass to Rauner Library
Where can you check out Shakespeare's first folio, a lock of George Washington's hair, and original Dr. Seuss illustrations? Rauner Library of course. If you've ever visited Dartmouth, you've might have heard of Rauner Special Collections Library. Someone might have even raved to you about what a great study spot its natural lighting provides-all true and good, until you get the chance to actually explore some of their unique, ancient, even random collections. Here's a sneak peek at some of the things I've gotten to see at Rauner throughout my time at Dartmouth.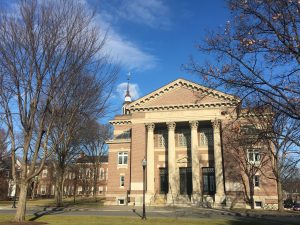 I first forayed into Rauner through the tour guide program, where one of our first tasks as tour guides was to visit resources all around campus and learn about them as a group. I remember Jay Satterfield, the library's Head of Special Collections, pulling out artifact after artifact for us to see and -- gasp -- to touch. My favorites were a first edition copy of Pride and Prejudice, and an intricately decorated Medieval prayer book, which is pictured to the side here.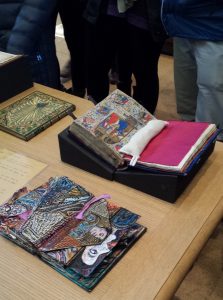 Last spring, I had the opportunity to learn from Professor Chaney in his course titled "Dave the Potter," an interdisciplinary exploration of the pottery-poetry of a man named Dave, a former slave in South Carolina. Not only did we learn about the historical and cultural significance of Dave signing his pottery pieces, we also got to interact with them face to face through a "Dave pot" that Rauner specially obtained for our class. (As you can tell by my snap, I kind of geeked out over it.) It was pretty special to be able to hold the same jar that Dave's hands had crafted decades earlier, and to run my fingers along the signature he'd scratched into its side.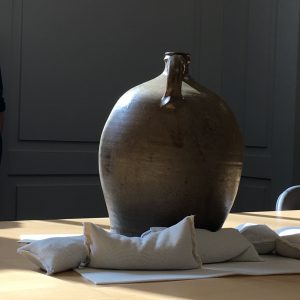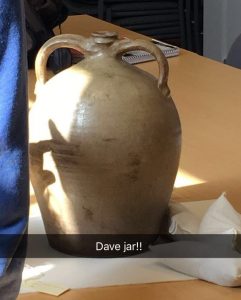 I visited Rauner again this fall through an English course titled "God and Darwin," where we learned about Victorian responses to Charles Darwin's Origin of Species. One of the authors we examined in detail was William Morris, a bookmaker who insisted upon hand-setting type and printing woodcut images full of natural growth, despite the technology available at his time to manufacture books more quickly. I've included two images from one of his books, The Golden Legend of Master William Caxton done anew, below.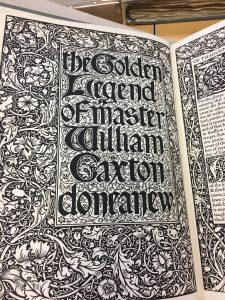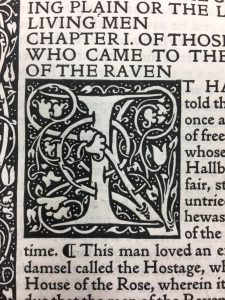 I even got to take an image of one of his initials (the fancy capital letters that begin paragraphs) and use it to create a poster in our Book Arts Workshop, setting my own line of type by hand to mimic what Morris had done in his bookmaking. I quickly discovered that it's a lot more time consuming than I'd thought! Below I've shared a picture of my poster, with the inscription "On the Origin" set in Gothic-style type.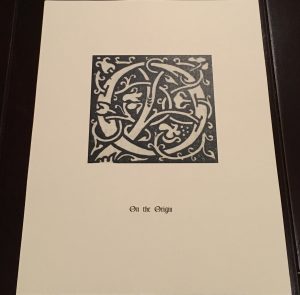 The best thing about Rauner, though? Anyone can access this stuff. All you have to do is show up and ask to see it. If you don't believe me, check this out -- and stop by Rauner next time you're in Hanover!